Homemade burgers and hassle-free skewer recipes to grill and enjoy outside in the sun
Don't ignore the barbecue just because you can't have guests over. It's really a brilliant way to cook and if you gain confidence and learn to embrace it, it can be really economical too. Chef Simon Rimmer shares delicious BBQ recipes in our current issue, which is on sale in shops nationwide and available for download now.
In the meantime, here are a few handy recipes to try out this weekend, whether you are BBQing or simply grilling in the kitchen.
Asador's gambas with cherry tomatoes
Ingredients (per skewer):
4 shrimp
3 cherry tomatoes
Maldon sea salt, to taste
For the ASADOR marinade:
Advertisement. Scroll to continue reading.
1 bunch fresh parsley
1 garlic clove
100ml olive oil
Zest of 1 lemon
Juice of ½ lemon
Drizzle of honey to taste
Method:
To clean the shrimp, remove the shell from the main body, leaving the head and tail attached for better presentation and flavour.
Devein the shrimp by running a sharp knife along the middle of the tail to expose and remove the vein.
For the marinade, chop the parsley and garlic on blitz in a blender, then mix in the rest of the ingredients.
Light up your BBQ and bring to high temperature
Alternate one shrimp and one cherry tomato on the skewers. Brush your shrimp and tomato skewers with parsley marinade and season well with salt.
Place skewers on the hottest part of the BBQ and grill for 1-2 min each side.
Remove and sprinkle with Maldon salt.
Unislim's tandoori chicken pitta
Ingredients:
For the chicken:
1 tbsp tandoori paste
60g natural low-fat yoghurt
100g chicken breast fillets, cut into chunks
1 x 60g wholemeal pitta
lemon or lime wedges to serve
Raita:
4 tbsp plain low-fat yoghurt
a few sprigs of mint, chopped
1 chunk cucumber, diced
1 spring onion, finely chopped
a good pinch of ground cumin
a pinch of ground coriander
Indian salad:
4 cherry tomatoes, halved
1⁄4 red onion, finely sliced
1⁄2 green or red chilli, deseeded and diced
a few crisp lettuce leaves, shredded
a few sprigs of coriander, chopped
juice of 1 lime
Method:
Mix the tandoori paste and yoghurt in a bowl. Stir in the chicken until well coated. Cover and marinate in the fridge for at least 30 minutes.
Make the raita: mix together all the ingredients, then cover and chill. Mix the salad ingredients together, then cover and refrigerate until ready to serve.
Thread the chicken onto 4 wooden skewers and place in a foil-lined grill pan. Cook under a preheated hot grill, turning occasionally, for 10–15 minutes, until well-cooked inside and golden brown outside.
Warm the pitta or wrap in a griddle pan or low oven. Remove the skewers and place the chicken and salad inside the pitta pocket or on top of the wrap. Drizzle with the raita and fold over or roll up. Serve with lemon or lime wedges or slices.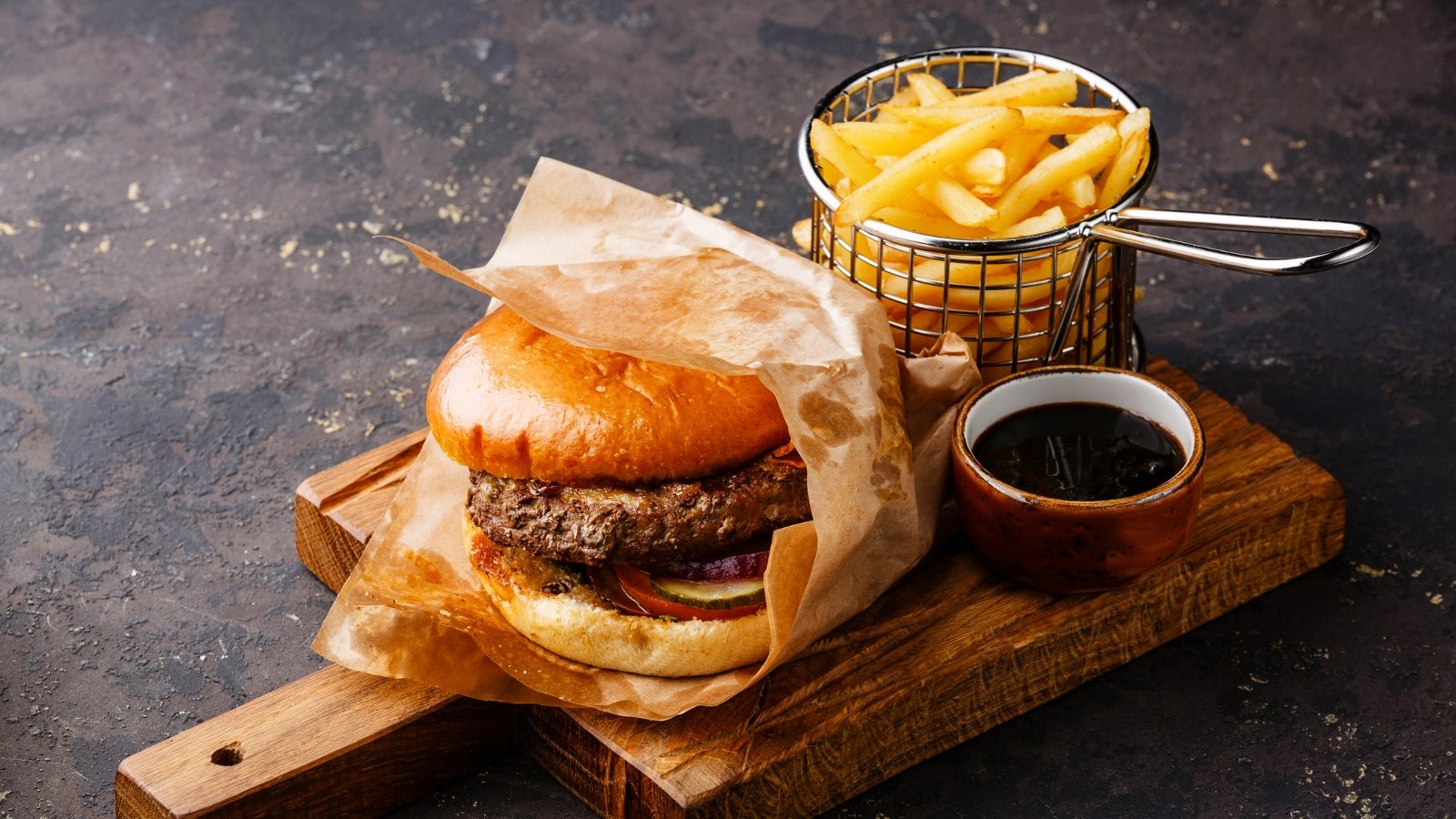 Kevin Dundon's homemade burger recipe
Ingredients:
700g lean minced beef, Kevin recommends SuperValu
2 tbsp flat parsley, chopped
2 cloves garlic
50g breadcrumbs
1 large egg
salt and pepper
2 tbsp plain flour for dusting – optional
4 tbsp tomato ketchup
4 tbsp mayonnaise
1 tbsp brandy – optional
¼ tsp tabasco
2 tbsp olive oil
40g lamb lettuce leaves
4 – 8 slices mature red cheddar
8 slices streaky bacon, cooked
2 tomatoes
Method:
Preheat the barbecue. Place the minced beef into a large mixing bowl and add in the chopped parsley, garlic, breadcrumbs . Season the mixture with salt and pepper. Add in the egg and combine the mixture together with your hands using the egg as a binding agent.
Divide the mixture into 4 or 8 small balls and using a little plain flour shape them into your desired shapes about ½ inch thick. Allow to rest in the fridge for at least 30 minutes.
Then, prepare the mary rose sauce. In a bowl, combine the tomato ketchup, mayonnaise, brandy, tabasco and taste for seasoning.
Ensure the barbecue or a griddle pan is hot. Oil the barbecue ridge or drizzle some oil on a griddle pan and add the burgers. Cook on both sides for 4 – 5 minutes each side until cooked through –  depending on thickness you may need an extra 2-3 minutes over indirect heat or lower heat with the griddle pan.
In the meantime drizzle the halved buns with olive oil and reheat on barbecue. Immediately add the burgers, cheese slices, cooked bacon,  the tomatoes and a good dollop of mary rose sauce.
Weber's asparagus with green goddess dip
Ingredients:
1 kg asparagus
2 tbsp extra-virgin olive oil
1 tsp sea salt
4 tbsp flat leaf parsley
2 spring onions (white and light green parts only), coarsely chopped
2 tbsps roughly chopped tarragon
150 ml sour cream
75ml mayonnaise
2 tbsps fresh lemon juice
2 tbsps small capers, rinsed
Method:
Prepare the barbecue for grilling (direct method) over medium heat (180-230°C).
Pulse the parsley, spring onions and tarragon in a food processor until finely chopped.
Add the sour cream, mayonnaise and lemon juice and process until smooth. Add the capers and pulse until combined. Transfer to a serving bowl and refrigerate until ready to serve.
Remove and discard the tough bottom of each asparagus spear by grasping at each end and bending it gently until it snaps at its natural point of tenderness, usually about two-thirds of the way down the spear.
Spread the asparagus on a large plate. Drizzle with the oil and season with the salt. Roll the spears in the oil until they are evenly coated.
Brush the cooking grates clean. Grill the asparagus (laid at right-angles to the bars of the grate) over direct medium heat for 6-8 minutes, with the lid closed as much as possible and turning occasionally, until browned in spots but not charred. Remove from the grill and serve warm with the dip.
Catherine Fulvio's Chicken Skewers with Apple Cider Vinegar BBQ Marinade
Ingredients
Makes 8 skewers
For the marinade:
150ml apple cider vinegar
1 garlic clove, finely chopped
2cm grated fresh ginger
½ red chilli, thinly sliced
3 tbsp SIÚCRA Light Golden Brown Sugar
1 tsp salt
For the skewers:
3 large chicken breasts, sliced lengthwise into thin strips
Bay leaves, to thread
8 metal or wooden skewers (if you are using wooden ones – soak in cold water for 1 hour so they don't burn when chargrilled)
For the dipping sauce:
2 red chillies, finely chopped
3 tbsp SIÚCRA Rich Dark Sugar
1 tbsp rapeseed oil
½ tsp ground cumin
½ tsp fennel seeds
120g natural Greek style yoghurt
2 tbsp chopped parsley
To serve:
A selection of lettuce leaves
Chargrilled lengths of spring onions
Rocket leaves
Edible flowers, to garnish  
Rapeseed oil
Salt and freshly ground black pepper
Method:
To make the marinade, combine the apple cider vinegar, garlic clove, ginger, red chilli, salt and SIÚCRA Light Golden Brown Sugar together in a medium size bowl. Place the chicken strips into the marinade and leave for minimum 30 minutes (and up to 4 hours).
Preheat the BBQ to a medium heat (about 170C).
To make the sauce, heat the chilli in a little oil over a medium heat and sauté for about 2 minutes. Add the SIÚCRA Rich Dark Sugar, ground cumin and fennel seeds and simmer on low for about 2 minutes. Remove from the heat, pour into a bowl and allow to cool.  Then whisk in the natural Greek style yoghurt, add the parsley and season with salt and freshly ground black pepper.
To prepare the skewers, thread chicken strips in an "s" format onto each skewer together with bay leaves, not packing too tightly so that the chicken can cook through fully.
Brush the chicken skewers with oil and place on the BBQ over indirect heat (i.e. not directly above the hottest coals), cook for about 5 to 6 minutes, then turn to cook on all the sides. Ensure that you check that they are fully cooked. Allow to rest for 2 to 3 minutes while keeping warm.
To serve, arrange the lettuce and rocket leaves and chargrilled spring onions on a platter. Place the cooked chicken skewers on top and sprinkle over the edible flowers, spoon over some sauce and serve immediately.