You will find lots of Irish-made products from these brilliant brands in the pages of this month's issue. Here are some other buys from their ranges that we're adding to our shopping basket this month. Love Irish-made products? Vote in the Irish Made Awards 2019 here!
ACCESSORIES 
Irish designer Aisling Kavanagh creates beautiful handmade embellished headbands which are ideal for racing season or a special occasion. You can buy the headbands from One Dame Lane in Dublin or by contacting Aisling on Instagram. 
View this post on Instagram
SKINCARE 
Stay sun-safe with the brilliant Irish-made SPF by Elave. Suitable for sensitive skin, this offers broad spectrum UVA/UVB protection and it is free from allergens. In this month's issue we recommended the Sensitive Sun SPF30 (€19.95), but we're also intrigued by the award-winning Daily Skin Defence SPF45 which will suit tricky skin. Formulated to work with normal, oily, acne-prone, dry, sensitive or combination skin, this is packed with skin benefits beyond the sun protection. Vitamin B5 and vitamin E anti-oxidants further protect the skin and help to repair environmental damage. The oil-free formula won't clog pores either. The range is also vegan-friendly and suitable for use in pregnancy. It's not often you get great Irish-made products in terms of sun protection, so this is definitely one to support!
Advertisement. Scroll to continue reading.
FRAGRANCE
One of our favourite candle brands (you have to try the coffee collection) has innovated with a clever new idea for a heavenly scented car. Clip the Max Benjamin car fragrance on to the air vents on your car dashboard for a blast of scent. Choose from one of their bestselling fragrances — blue azure, dodici, French linen water, lemongrass & ginger or white pomegranate. The scented inserts are replaceable and sit inside a mini vintage steering wheel-shaped holder. Available for €10 for the fragrance holder and refill, and €5 for individual refills. Find them at maxbenjamin.ie, Arnotts, Kilkenny and Meadows & Byrne. 
DEODORANT
In Aisling Keenan's comprehensive feature on the safety and efficacy of deodorants and antiperspirants, she recommends two brilliant Irish brands. West Cork brand Modern Botany is a longtime favourite with Irish Country Magazine, offering a unisex deodorising anti-perspirant using natural ingredients like witch hazel, sandalwood and eucalyptus and much more. The deodorant is now available in a handy 25ml travel size (€15).
Also made in the wilds of West Cork is the deodorant creams by Warrior Botanicals. Using ingredients that will prevent bacteria growth under your arms, it effectively prevents odours. It utilises natural ingredients like baking soda and magnesium, antibacterial essential oils like rosemary, lavender and eucalyptus, and shea butter and plant oils to care for the skin. This deodorant is also available in a new mini size of just 30ml, and the sensitive version contains soothing rose, cardamom and vanilla (€8.50). 
New kid on the block Indeora is a really exciting product. The unique magnesium formula neutralises body odour for up to 24 hours and it is free from aluminium, aerosol gases, baking soda (sometimes it can cause a reaction), sulfates and synthetic fragrances. It also promises 400 sprays per bottle making it good value for money (€19.95). Currently available just in a coconut and vanilla scent, this is a young Irish brand that is grabbing attention for the right reasons.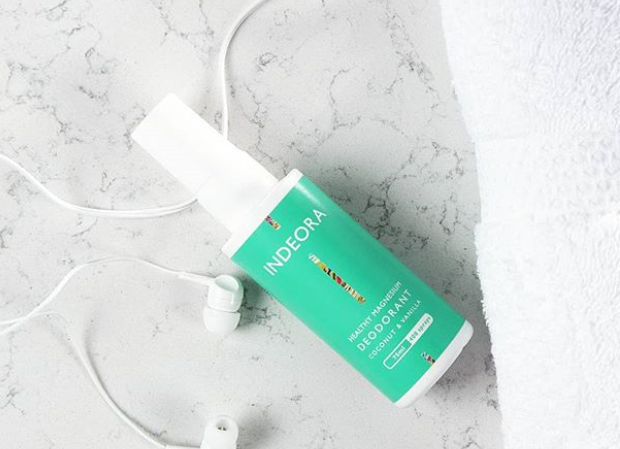 INTERIORS
In this month's issue in our guide to styling a contemporary home office, we included the very cute Sam Agus Nessa Bare clock (€50), which you won't mind keeping an eye even if you're working! If grizzly bears aren't your thing, we also love the Whale of a Time clock (€50), which will hopefully help you feel like time is swimming by. Find them online at samagusnessa.com or at Kilkenny Shop. 
FOOD 
Keeva Tyrrell and Philip Doyle visited the makers behind the Pizza Da Piero, which are thin stonebaked pizzas so you can add your own toppings at home. As well as creating two gorgeous recipes for Irish Country Magazine, producer Piero De Vallier explains how he makes guilt-free pizza bases that are free from preservatives, sugars, dairy, additives, and are also vegan-friendly. Find the bases in SuperValu, Dunnes or Tesco. 
View this post on Instagram