Straw bags aren't just for the beach. Inject some sunshine into our wardrobes with seasonal accessories in raffia and wicker
Straw bags just scream summer. There are a tonne of styles to choose from. Do you like to channel your inner Jane Birkin and carry a whimsical basket with you to the beach and beyond, or do you prefer a more practical backpack or crossbody for your adventures? All styles are catered for with straw accessories this season in all shapes and sizes, ensuring that we can at least embrace summery accessories even if the temperatures aren't quite what we'd like.
Grab and go
This woven crossbody bag is ideal for busy weekends and travelling light.
Luxe detail
For a more subtle nod to the trend, you can't go wrong with this pretty handbag from LOEWE. LOEWE's straw basket bag was a cult favourite last year.
Advertisement. Scroll to continue reading.
Classic chic
The tote is an endlessly practical option, and we love the detail on this one.
Holdall
This bucket bag is the perfect accessory for feminine summer looks.
Versatile style
The contemporary crossbody strap option makes this bag a winner.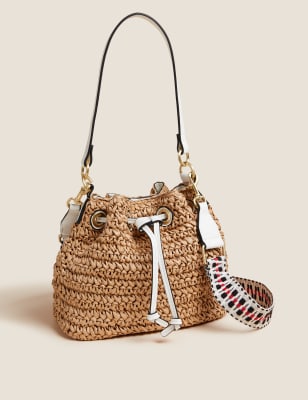 The dark side
Darker weaves look just as good, particularly with monochrome looks.
Pre-loved find
You can't go wrong with Stella.
World traveller
This tote has globetrotter appeal.
Blue crush
Is this the perfect beach bag? We suspect so.