With the weather heating up this week, it might be time to pull out the BBQ. And if you're looking for a way to literally spice up your meal, look no further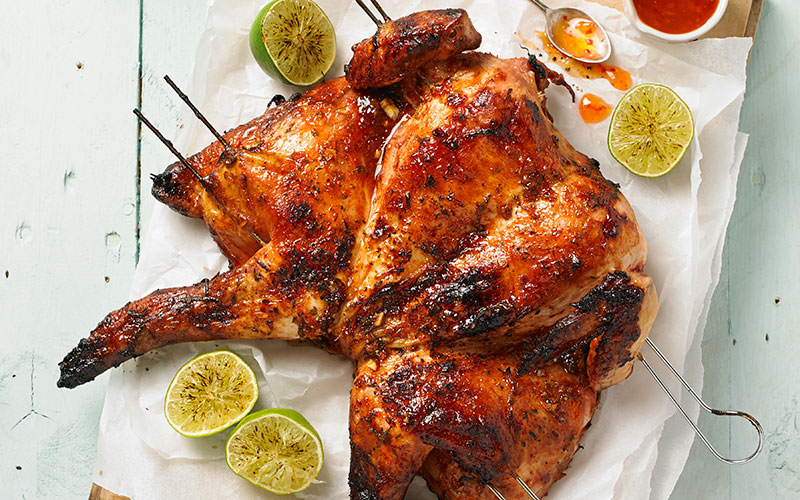 Forget about your burgers and put the skewers away, this summer is all about trying new flavours and combinations. Weber have put together an incredible recipe for a smokey lime and chilli spatchcock chicken. It doesn't take a professional chef to prepare, and you can mix and match what to serve alongside it.  Make sure you leave time before the BBQ for marinading – and afterward for accepting everyone's praise!
Serves: 4 people
Cooking method: Indirect
Temp: 180-200°C
Prep time: 2hr 30 (marinading)
Cooking time: 1hr 30 minutes
Ingredients
Whole free-range chicken
Advertisement. Scroll to continue reading.
Marinade:
5 tbsp of a good quality sweet chilli sauce
4 garlic cloves, finely grated
3 limes, zest and juice of
2 tsp dried thyme
2 tsp smoked paprika
1 tbsp olive oil
Salt and pepper
Method
In the kitchen:
Combine all marinade ingredients together in a bowl
To prepare the chicken, place on a chopping board, remove the wish bone with a sharp knife and then cut the chicken down the spine. Turn it around on the board so the skin side is facing up. Flatten the chicken out by applying pressure on the breast bone until it snaps and the chicken lies flat and spread out.
Rub the chicken, skin side only in the marinade and allow infusing for 2 hours. Making incisions with a sharp knife into the flesh can help the marinade penetrate.
At the barbecue:
Roast (indirect method) the chicken for about one hour. There is no need to turn the chicken as the underside will be protected by all the bones.
Remove the chicken once the core temperature of the thigh and breast meat has reached 75°C, then allow the chicken to rest for 10-15 minutes before carving.
To view Weber's full product range and for more recipe inspiration visit their website.