If you're bored of porridge and toast, try these quick and delicious recipes
Dark winter mornings are hard to adjust to, but having something hearty and warm to enjoy first thing is a definite upside. Here are three dishes that are easy to throw together in the time you'd normally spend commuting.
Ingredients:
200g oats (use gluten free or buckwheat flakes if required)
1 tsp vanilla extract
1⁄2 tsp cinnamon
1⁄2 tsp baking powder
3 tbs maple syrup
30g chopped pecans
40g chopped walnuts
180g frozen blueberries
270ml almond milk (or other milk)
Yogurt, optional – to serve
Method:
Advertisement. Scroll to continue reading.
Preheat oven to 180c and grease a baking tin.
In a mixing bowl, add vanilla extract, maple syrup and almond milk.
In a separate mixing bowl, add oats, cinnamon, baking powder, chopped pecans and walnuts.
Scatter 3⁄4 of the frozen blueberries on the bottom of the baking tin, before pouring on your dry mixture of ingredients.
Next, pour over your wet mixture and, sprinkle a few more nuts and blueberries on top.
Bake for 25 minutes until serving with a dollop of yogurt.
For more recipe ideas visit thefoodmedic.co.uk.
Donal Skehan's Baked Eggs with Spinach and Ham
Serves 4
Ingredients:
15g butter, extra to grease
100g baby spinach leaves
100g hand-carved cooked ham, finely chopped
4 large eggs
100ml cream
25g goat's cheese
Sea salt and freshly ground black pepper
Buttered sourdough toast fingers, to serve
Method:
Preheat the oven to 180°C/350°F/Gas mark 4.
Heat the butter in a small pan and quickly sauté the spinach until wilted. Season to taste and drain off any excess liquid. Butter 4 deep ramekins and spoon a small mound of spinach in the bottom of each one, then scatter over the ham and goat's cheese. Crack in an egg and season with salt, then add a quarter of the cream to each ramekin.
Arrange the ramekins in a roasting tin and pour in enough boiling water to come about halfway up each ramekin. Place in the oven and bake for 15 minutes, until the eggs are just set but the yolks are still runny. Set a ramekin on a warmed plate and add sourdough toast fingers to serve.
For more recipe ideas, visit donalskehan.com.
Three ingredient pancakes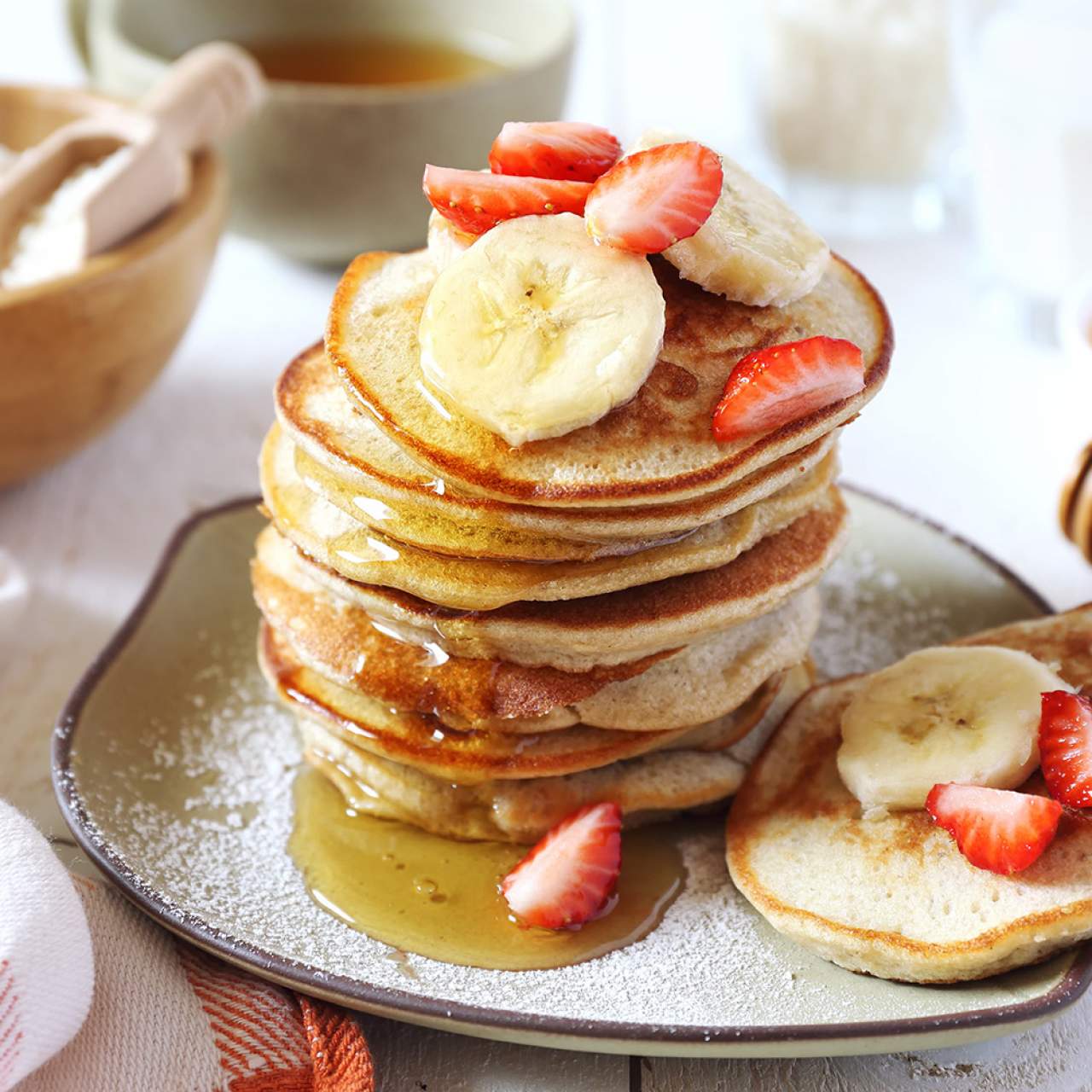 You can make these pancakes with just two ingredients, egg and banana, but adding some flour will help make them more filling. Any flour will work so choose whatever suits your dietary requirements. Serves 1
Ingredients:
1 banana
1 egg
2 tbsp flour
Method:
Mash the banana with a fork, and then whisk in the egg until fully combined.
Mix in the flour until just combined, being careful not to overmix it.
Heat oil in a pan and cook for two-three minutes on each side. It is best to make these pancakes in a small and thin size, so they are easier to flip.
Add your favourite toppings.