Salads can sometimes be boring or feel like too much hard work. Here are three tasty recipes that require little effort
The days are starting feel muggy and warm, so your go-to quick but boring lunch of beans on toast is growing old quick. When the weather heats up and you want something more satisfying without too much hassle, try these refreshing and delicious salads.
Lentil, brocolli and pea salad
Irish doctor Hazel Wallace works in London but somehow finds the time to share fantastic recipes on her website. Here she shares an easy and healthy salad recipe as part of her Lunch Box Club series.
Ingredients:
250g cooked lentils (sub: brown rice / black rice / chickpeas / butter beans)
150g tenderstem broccoli
150g sugar snap peas (sub: asparagus)
6 tbsp frozen peas (sub: sweetcorn)
A couple handfuls kale (sub: spinach / any green leaf)
3 tbsp flaked almonds (optional or sub: any nuts or seeds)
100g feta (sub: halloumi or avocado)
For the dressing:
2 tbsp soy sauce
1 tbsp sesame oil (sub: olive oil)
Juice of 1 lemon
1 garlic clove, crushed
2 tsp honey (sub: maple syrup)
Method:
Advertisement. Scroll to continue reading.
Start by cooking the lentils if they're not already cooked and setting aside.
Meanwhile, bring a saucepan of water to the boil and add the broccoli for 2 min. Add the sugar snaps, peas, and kale for the final 2 mins. Drain and then combine the lentils and veggies in a bowl and mix well.
Toast the nuts for 1-2 minutes on a hot frying pan, stirring frequently, until golden and fragrant.
Combine all the dressing ingredients in a bowl and then pour over the lentils and veggies, and toss together.
Pile onto a serving platter or divide into lunch boxes. Crumble feta and sprinkle nuts on top
Sweet potato and chilli chicken salad
Sports nutritionist Daniel Davey helps Ireland's leading athletes to ensure their diet gives them a competitive edge. In this salad recipe he created for Super Valu, he includes ingredients like chicken, chilli and sweet potato, which provide lots of protein and antioxidants. With just 15 minutes prep time and 20 minutes cook time, it's a quick recipe you will no doubt turn to again and again. For more quick and nutritious recipes, check out his recent book, Eat Up Raise Your Game.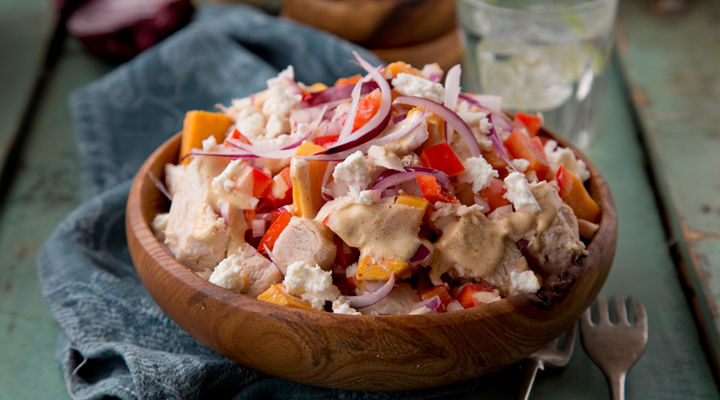 Ingredients:
2 chicken breasts
2 tsp olive oil
50g feta cheese, cut into squares
2 large sweet potatoes
1 red onion, finely diced
1 red pepper
1 pinch black pepper
1 pinch paprika
1 red chilli, deseeded and chopped
1 pinch salt
For the dressing:
1 tbsp dijon mustard
2 tbsp Greek yogurt
1 lime
1 tbsp olive oil
1 tsp paprika
Method:
Preheat the oven to 200°C/gas mark 6.
Place the chicken breasts in a baking dish. Brush with the olive oil and scatter over the chilli, paprika and a pinch of salt and pepper. Bake in the oven for about 20 minutes, until the chicken is completely cooked through. When it's cool enough to handle, cut into bite-sized pieces.
Meanwhile, steam the sweet potatoes for about 15 minutes, until tender. Remove the potatoes from the steamer and let them cool down to room temperature, then cut into bite-sized pieces.
Whisk all the dressing ingredients together in a small bowl and season with a pinch of salt and pepper (or any other spices that you like).
Place the chicken, sweet potato, onion, red pepper and feta in a large bowl and drizzle the dressing on top. Gently mix everything together using a large wooden spoon. Serve warm or cold.
Pear barley and roasted carrot salad
This salad combines the sweetness of roasted carrots with a creamy blue cheese dressing.
Ingredients:
5 banana shallots, quartered
4 garlic cloves, lightly crushed
300g pearl barley
½ small pack dill, roughly chopped
140g blue cheese, crumbled
a few fennel tops or dill, to serve (optional)
Method:
Heat oven to 180C/160C fan/gas 4. Put the sliced carrots in a large roasting tin with the shallots, garlic and fennel seeds. Drizzle over the oil, toss everything together and season. Roast for 35-40 mins until everything has caramelised and the carrots are tender.
Meanwhile, boil the pearl barley in a large pan of salted water until al dente, about 30 mins. Make the dressing by whisking all the ingredients together with some seasoning. Remove the carrots from the oven.
Strain the pearl barley and toss through the dressing, carrots, dill, parsley and half the cheese. Finish with a few of the fennel tops and the remaining cheese. Serve warm or cold with a slice or two of warm buttered soda bread, if you like.