Enjoy a healthy take on your favourite weekend treats with these recipes from Irish foodies
The weekend is here, it's time to close the work laptop and put your feet up. The hardest part of your evening now should just be choosing what to watch (we recommend a classic feelgood film like one of these, or check out the new dramas that just arrived on Amazon). Rather than devouring a packet of biscuits or jellies that make your teeth hurt, try one of these delicious recipes that are a bit more wholesome. It's so great to have treat foods that aren't filled with ingredients you can't pronounce. Everyone in your house will gobble them up in no time.
Roz Purcell's loaded nacho boat
Roz shared this healthy take on loaded nachos on her website Natural Born Feeder. It's got all the flavours and crunch you want from nachos, but with protein-packed lentils and healthy wraps instead.
Ingredients:
1 tbsp oil
½ small red onion, diced very fine
1 clove of garlic, peeled and crushed
1 red chilli, deseeded and diced
1 tsp paprika
1 tbsp cumin
½ tbsp coriander
1 tin lentils, rinsed and drained
1.5 tbsp tomato paste
1 x tin chopped tomatoes
1 tbsp tamari
pinch sea salt to taste
5 (whole-wheat/ plain) wraps sliced into pizza shapes
2 ripe avocados, skin removed and diced
Juice of 2 limes
Handful chopped fresh herbs like coriander, mint, parsley or your favourites
Cashew cheese (we subbed in grated cheese)
Method:
Preheat oven 180°C
Start by placing your sliced wraps onto a baking tray spread out flat and bake in the oven for 8-10 minutes until golden (turn over half way through cooking) once bakes place to one side.
In a frying pan over a high heat add a little oil and toss in the diced onion. Cook for 1-2 minutes stirring to avoid burning until the onion is crispy and lightly browned.
Add the garlic chilli and spices and cook for another minute.
Next toss in the lentils, tomato paste and chopped tomatoes and tamari and bring to a simmer (once simmering you may want to turn heat down just a little so it doesn't spit hot tomato at you) simmer for 4-5 minutes. Place to one side.
For the avocado, place it in a blender with the lime juice and half of the chopped herbs and blend until smooth. Ranch recipe found here.
To assemble, first lay down the baked "chips" followed by the lentil chilli, spoon over the avocado along with a drizzle of the cashew cheese and finely the rest of the fresh herbs.
The Food Medic's chocolate caramel biscuit bars
Dr Hazel Wallace recently shared this indulgent recipe on her website, thefoodmedic.co.uk. It is the perfect recipe for your own DIY Twix bar to have with a cup of tea.
Ingredients:
90g oats
90 almond flour (or blend whole almonds into a flour yourself)
70g smooth peanut butter
2 tbsp maple syrup
1 tbsp of milk (dairy or dairy alternative)
300g dates, pitted
50g smooth peanut butter
1 tbsp vanilla extract
2 tbsp milk (dairy or dairy alternative)
175g dark chocolate
2 tbsp coconut oil, melted
Method:
Begin by soaking the dates for caramel layer in boiling water for 10 minutes to allow them to soften.
Meanwhile blend the oats for the base layer into a flour and combine in a bowl with the almond flour.
Add the remaining base layer ingredients (peanut butter, maple syrup and 1 tbsp of milk) and combine until the mixture forms into a ball.
Line a square baking tin and flatten the ball of mixture into the base (sometimes using the back of a spoon makes this process easier). Place it in the freezer to set whilst you make the caramel layer.
Next drain the dates that have been soaking and add to a blender along with the other caramel layer ingredients (peanut butter, vanilla extract and 2 tbsp of milk). Blend until smooth. You may need to scrape the sides down a couple of times.
Remove the base layer from the freezer and pour the caramel layer on top and smooth. Place the tin back in the freezer for approximately 1 hour 30 minutes.
Remove from the tin and carefully slice into bars (we made 8 from this recipe). Place them on a lined baking tray and back into the freezer whilst you prepare the chocolate.
Melt the chocolate in a bowl and combine with the coconut oil. Remove the bars from the freezer and dunk the bars in the chocolate. We did this in two batches, keeping half of the bars in the freezer to stay cold whilst we covered the other half in the chocolate.
Once all are covered place them all back in the freezer for 5 minutes to set before eating. Delicious topped with a few salt flakes should you wish. Keep the bars stored in the fridge or freezer.
Little Green Spoon's sweet and salty popcorn
It's not a movie night without popcorn, and this recipe is a treat for the tastebuds.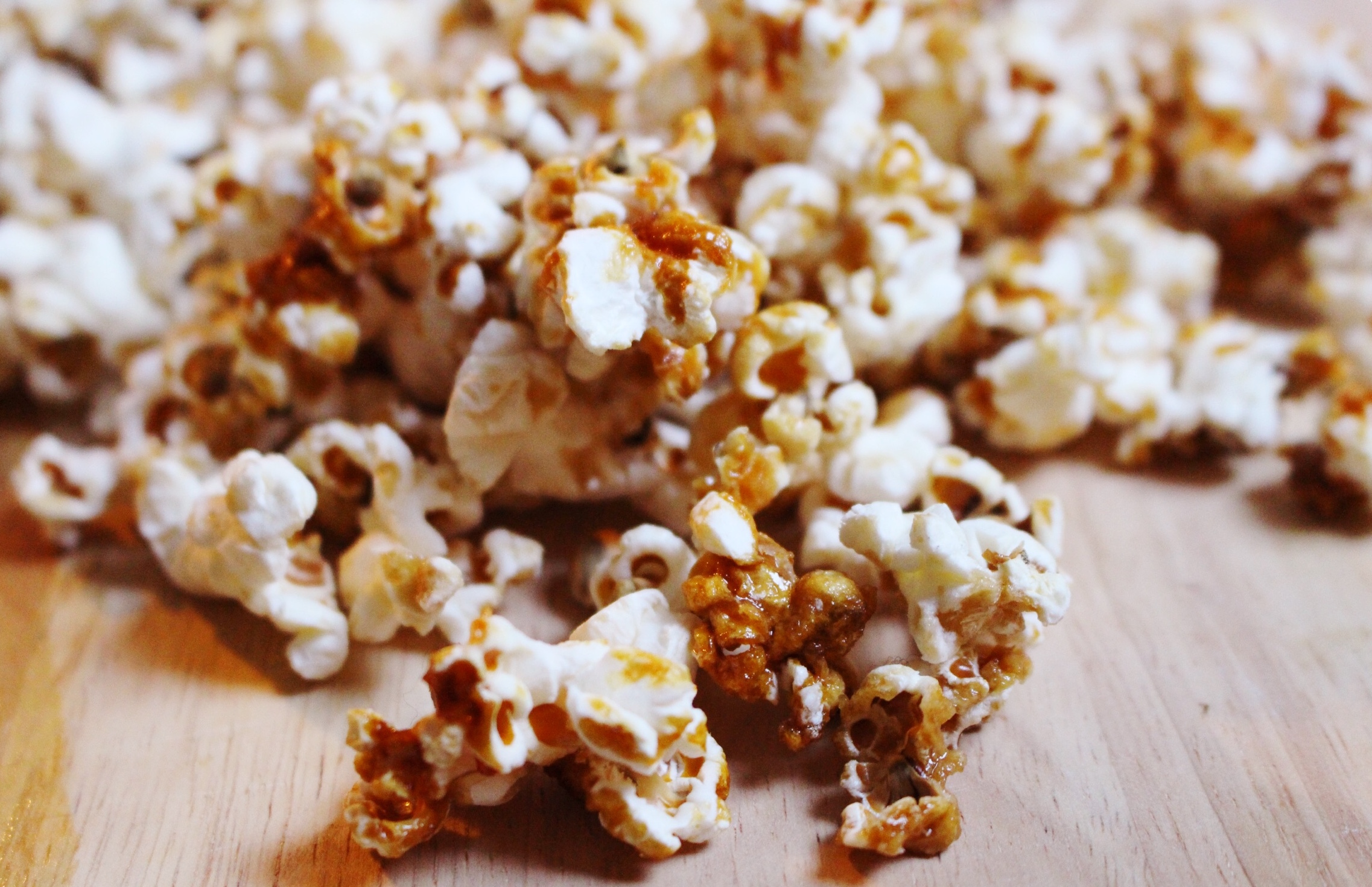 Ingredients:
110g of organic popcorn kernels
2 1/2 tbsp of coconut oil
80ml of maple syrup
1 tsp of coarse salt
Method:
Add 1 & 1/2 tablespoons of coconut oil to a big deep saucepan on medium heat and let it melt. When it's melted add in the popcorn kernels and toss them around to coat them in the oil. Pop the lid on.
When you start to hear popping shake the pan continuously still on the heat until the popping slows down or the popped corn reaches the lid.
Pour the popcorn into a large bowl and set aside.
Using the same pot, add one tablespoon of coconut oil and the maple syrup and salt. Let it simmer away for a few minutes and get really hot.
Carefully pour the sauce over the popcorn, tossing it around. Lay the popcorn out evenly onto a baking sheet and bake at 120°C for about 40 minutes, tossing it a couple of times throughout.
Let it cool completely and get nice and crispy and then serve and enjoy!