Feel like you should be saving money, but instead are spending it all on your weekly shop? Follow these chefs for affordable recipes
Spending all this time at home makes you highly aware of how much it costs to feed yourself each week, and it's so much more than expected. Add to that the desire to shake things up every now and then and throw in some treats like nice cheeses and some wine, and dread starts to seep in as you approach the till, and wait to see what number your trolley tots up to.
Finding recipe inspiration online is nothing new, but in recent years budget cookery has really taken off. People are learning the importance of living within their means and there are brillant chefs sharing recipes that will help people feed themselves and their families for a low price without sacrificing nutrition or flavour. Here are some of our go-to chefs for reasonably priced recipes, and a simple dish to add to your weekly routine.
Budget Bytes
Blogger Beth Moncel of Budget Bytes shares delicious recipes for small budgets and every craving. Her diverse recipes prove that cooking on a budget doesn't have to be repetitive. We love this delicious Thai coconut curry carrot soup, which is a little more exciting than your standard homemade veg soup.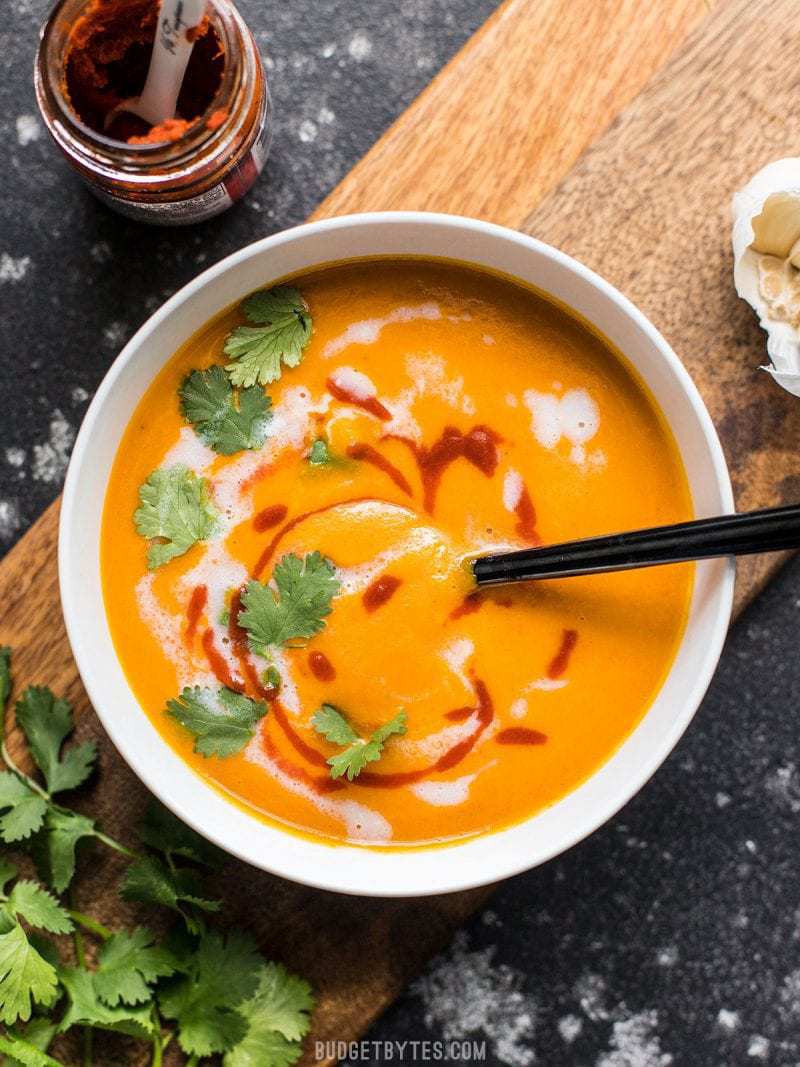 Ingredients:
Advertisement. Scroll to continue reading.
2 tbsp butter or coconut oil 
1 yellow onion 
4 tbsp red Thai curry paste
450g carrots 
1 sweet potato
3 cups vegetable stock
1 can full fat coconut milk 
salt and pepper to taste
Method:
Dice the onion and add it to a large pot along with the butter (or coconut oil). Sauté the onion until soft and translucent (about 5 minutes).
Once the onions are soft, add the Thai curry paste and continue to sauté for about a minute more.
While the onion is sautéing, peel and dice the sweet potato (about 1-inch cubes). Add the sweet potato to the pot after the curry paste has sautéed, and continue to sauté the sweet potatoes while you peel and slice the carrots. Add the carrots to the pot as you slice them.
Add the vegetable broth to the pot, stir to combine, place a lid on top, and turn the heat up to medium-high. Allow the soup to come to a boil, then turn the heat down to low (or just above low) and allow it to simmer for 30 minutes, stirring occasionally. After 30 minutes the sweet potatoes and carrots should be extremely tender and fall apart as you stir the pot.
Turn the heat off and remove the pot from the hot stove top to facilitate cooling (to another area on the stove is fine). Add the coconut milk and stir to combine. You can reserve a tablespoon or two of the coconut milk to garnish the finished soup, if desired.
Use an immersion blender, or allow the soup to cool further and carefully purée in batches using a traditional blender. Once the soup is puréed, give it a taste and add salt or pepper if desired (this will depend largely on the type of broth used). 
A bolognese with a difference
Miguel Barclay is the authority on cooking creatively to a strict food budget. Challenging himself to make recipes that cost just £1 per portion, he has written several cookbooks on the subject. His innovative recipes are full of clever shortcuts and use simple ingredients that are affordable and easy to find. Here, he puts a spin on bolognese by incorporating flavourful chorizo.
A cheap & cheerful burger
Jack Monroe's accidental rise to fame came about when she started blogging recipes created when she was living on a £10 a week budget and donations from the local food bank. Now a successful cookbook author, Jack continues to share affordable recipes using low-cost ingredients anyone can get their hands on. This simple bean burger feels like a treat.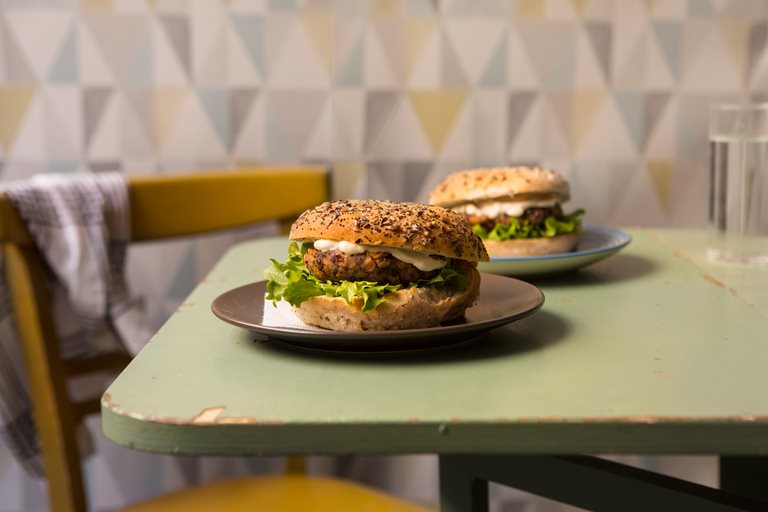 Ingredients:
1 onion, finely chopped
1 handful of coriander, finely chopped
1 tsp cumin powder
400g of tinned red kidney beans
2 tbsp of oil
2 tbsp of flour
Buns, mayonnaise and lettuce to serve
Method:
Drain and rinse the kidney beans in cold water to wash away the 'tinned' taste. Put in a saucepan and cover with cold water. Bring to the boil, then simmer for ten minutes to soften. In a separate pan, add the finely chopped onion, grated carrot, cumin and coriander. Drizzle a little oil over and cook gently on a low heat to soften.
When the kidney beans have heated through and softened, drain and add to the carrots and onions. Mash together with a masher or a fork until you have a smooth-ish purée (like a mashed potato consistency). Stir in a heaped teaspoon of flour.
Heat a little oil in a frying pan on a medium heat. With floured hands, shape some of the mixture into a ball, about the size of a golf ball. Place in the oil and flatten gently with a fork to make the burger shape. Cook for a few minutes on one side, before turning over gently. They need to be handled with care while cooking as they can be quite fragile!
When cooked on both sides, serve hot.