Retire your comfy loungewear for pretty, light PJs for a more comfortable night's sleep on warm, stuffy nights
Gorgeous summer days can turn into sticky, stuffy nights. The temperature in our bedrooms should be slightly cooler for a better night's sleep, and your usual nightwear might be too heavy. Switch out your go-to nightwear for some light PJs that are stylish too. You can even wear these cute sets and nighties as handy beach wear or in the garden on particularly sunny days.
Look out for breathable, natural fabrics. Short sets and nighties are great choices, but if you like to sleep with the window open for example, a light shirt and floaty trouser set can give you that little bit of coverage while still feeling cool. Here are some light PJs we love.
Co-ord set
We're just love a comfy co-ord set.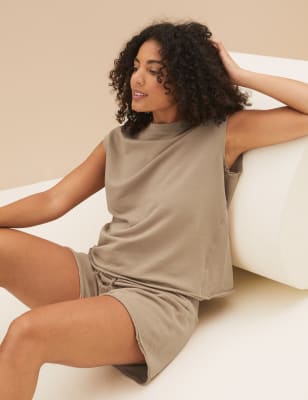 Super lightweight
Zoe Jordan's organic cotton voile PJs have a pop of colour on the piping.
Advertisement. Scroll to continue reading.
Comfortable classic
This pretty slip dress is ideal when you need to feel cool at night.
Looking good
This gingham set with a baby doll neck is a pretty option for holidays and weekends away.
Ray of sunshine
A comfy short and t-shirt set in a fun pattern is essential for summer nights and lazy lie ins.
Irish-made linen
Loom Irish Linen products are designed in Co Tipperary, and made in Dublin using linen milled in Co Antrim.
100% cotton & sustainable
Moon + Mellow's luxurious PJ sets and nighties are ethically produced.
Read next: 10 questions with amputee model Bernadette Hagans