Fish is a nutritious and tasty ingredient available in abundance in Ireland, and yet some of us are still hesitant to cook it ourselves at home. These simple recipes take just a few steps
Summer is the perfect time to enjoy fish at home. It cooks quickly, there are so many different ways to enjoy it, and both white and oily fish provide lots of health benefits. Add these convenient dishes to your repertoire now for easy dinners to please the family and to feed a crowd once lockdown ends.
Rory O'Connell's smoked salmon and cream cheese frittata
Rory made this delicious frittata live on the Bord Bia Instagram recently, and you can watch the video below. Enjoy it as a tasty brunch or supper.
Ingredients:
Advertisement. Scroll to continue reading.
8 eggs
2 tbsp chives, chopped
1 tbsp basil, chopped
Salt and black pepper
1 tbsp olive oil
50g cream cheese, diced
75g smoked salmon, thinly sliced and chopped
Red onion slices to garnish
Salad leaves and bread to serve
Method:
Set the grill to high. Whisk the eggs with the chives, basil and seasoning. Heat a non-stick pan with the olive oil. Pour in the egg mixture, stir for a moment or two, allowing the liquid egg to flow on to the base of the pan.
Scatter on the cream cheese and continue cooking until the egg is almost set but still moist on top, add the smoked salmon pieces, press on salmon lightly.
Place the pan under the hot grill to finish cooking 1-2 minutes. Cool 5 minutes, and then loosen edge with spatula and slide onto a large plate.
Cut into wedges and serve warm. Garnish with red onion slices.
There are some extra tips in his video here:
Martin Shanahan's seafood chowder
Summer is synonymous with a bowl of chowder in a seaside pub. While we wait for that opportunity to arrive, make your own with this recipe Martin created for Super Valu.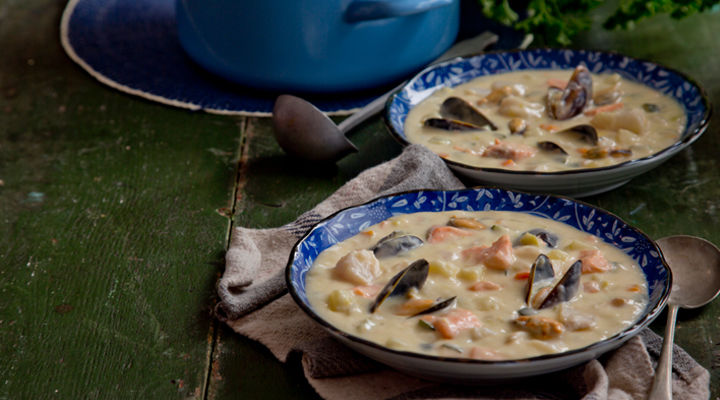 Ingredients:
600ml fish stock
300g seafood mix, such as haddock, cod, hake and salmon, skinned, boned and cut into bite-size pieces
1 kg mussels
1 clove garlic, chopped,
1 medium leek, dice
80g low fat butter
80g plain flour
1 pinch salt
1 medium carrot, diced
1 medium courgette, diced
2 tbsp parsley
200ml light cream
2 potatoes, peeled and diced
1 pinch white pepper
crusty bread, to serve
Method:
Place the mussels in a medium-sized pot with chopped garlic and a little fish stock. Cook for 3 minutes, until all the mussels have opened (discard any that have not). Strain and set the cooking liquid aside and remove the mussels from their shells.
Melt the butter in a medium-sized pot, then add all the chopped vegetables and cook for about 10 minutes, until soft. Add the flour and cook it out for 2 minutes. Add the rest of the fish stock, the cream and the cooking liquid from the mussels. Bring to the boil, then reduce to a summer and add the chopped raw fish and the cooked mussels out the shell. Season with salt and white pepper and cook just until the potatoes and fish are cooked through.
Ladle the chowder into four bowls and finish with the chopped fresh parsley. Serve with crusty bread on the side.
Donal Skehan's fish tacos
Donal's Mexican fish tacos are a crowd pleaser. The dish comes together quickly, but looks so impressive.
Ingredients:
For the salsa:
250 grams cherry tomatoes, halved
2 spring onions, trimmed and finely chopped
1 garlic clove, peeled and finely chopped
Juice of 1 lime
1 tbsp extra virgin olive oil
Sea salt and ground black pepper
For the tacos:
1 tbsp paprika
1 tsp garlic powder
1 tsp dried oregano
1 tsp cayenne pepper
1 tsp ground cumin
650 grams cod fillet
1 tsp sunflower oil
Sour cream to serve
1 lime cut in wedges
2 avocados, stoned and finely sliced
Good handful of coriander leaves
1 red onion, peeled and finely sliced
1/2 head white cabbage, finely shredded
Tabasco sauce
Sea salt
12 corn tortillas, warmed through
Method:
To make the salsa, mix together the ingredients in a serving bowl and set aside.
Heat a barbecue or griddle pan to a medium-high heat. Combine the paprika, garlic powder, oregano, cayenne pepper and ground cumin in a bowl. Dust the fish fillet with the spice mix. Brush the grill with the oil and cook the fish for 4–5 minutes on either side until cooked through.
Meanwhile, prepare the accompaniments for the fish by arranging the sour cream, lime wedges, avocado slices, coriander leaves, red onion and cabbage in serving bowls. Squeeze a little lime over the avocado and set everything aside on a large serving platter with a little bottle of Tabasco.
Carefully remove the fish from the pan and break it apart with a fork. Place the flakes in a serving bowl and season with sea salt to taste. Sprinkle with coriander leaves.
Add the warm tortillas to the serving platter and assemble little bits of everything in the tortillas. Wrap up and enjoy!