Here are the new performances, TV shows, online tutorials and discussions not to miss
The only downside of all the brilliant online events going on at the moment, is hearing about it after the fact.
There has been a wealth of fun and informative content for us all to stream into our homes in recent weeks. But there is nothing more annoying than feeling like you were the last to hear about the best new show to watch, or missing an Instagram Live by an hour or two.
Here's what to make a note of in the coming fortnight.  Also, check out what's inside the new issue of Irish Country Magazine here.
Thursday, 23 April at 7pm: World Book Night
UK charity The Reading Agency started the lovely initiative #ReadingHour. A much-needed nudge to delve into a brilliant book for an hour.
Can you believe that #WorldBookNight is in one week? Everyone is invited to join us for #ReadingHour at 7pm on 23 April. Read alone, with or to other people, or talk to someone about books. You can do anything as long as it's about reading! @readingagency pic.twitter.com/RlNqYvtEfz

— World Book Night UK (@WorldBookNight) April 16, 2020
Advertisement. Scroll to continue reading.
Thursday, 23 April: Coronavirus: America's Reckoning, tonight at 8pm on Sky Atlantic
This compelling documentary sees Sky New Correspondent Cordelia Lynch exploring the humbling impact of coronavirus on the most powerful country on earth. 8pm on Sky Atlantic. Repeats during the week.
I've been working with @EmilyPurser and @skycameraguy, looking at the impact of the pandemic on America and meeting those at the sharp end of it. Looking forward to talking about it on @11thHour tonight. Coronavirus: America's Reckoning airs on @skyatlantic tomorrow at 10pm bst. pic.twitter.com/BxOvp8a7yW

— Cordelia Lynch (@CordeliaSkyNews) April 21, 2020
Thursday – Saturday, 23-25 April, 11am: Livestreams and podcasts of Cúirt Literature festival
As Cúirt Festival in Galway can no longer go ahead, the team behind the festival have planned a brilliant line-up of live streams and podcasts for people to tune into from home. With high profile names taking part, such as Eimear McBride, Kevin Barry, Jan Carson, Anne Enright, Sinéad Gleeson and more, it's going to be terrific. Don't miss Eimear discussing her latest novel Strange Hotel tonight at 7.30pm.
There will also be the chance to hear from new writers too. Join writers Melatu Uchenna Okorie, Owudunni Mustapha and Jess Traynor for a live podcast recording to hear some of the best new writing Ireland has to offer. Simply sign up for a free ticket on Eventbrite and you will receive an email with the link to join the event.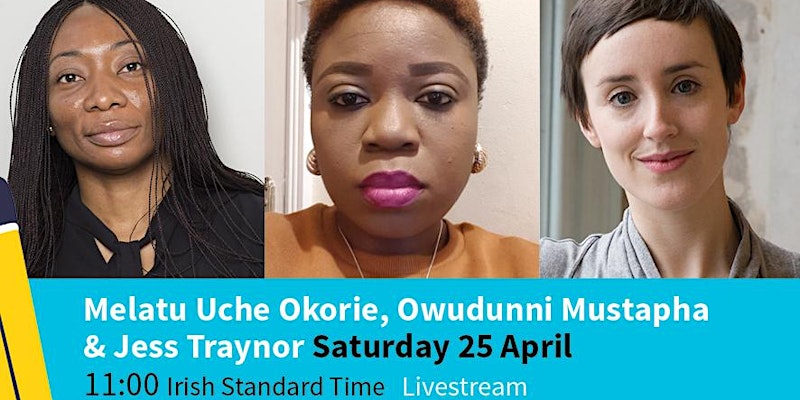 Friday, 24 April: New music from Dermot Kennedy
Dermot Kennedy's track All My Friends came out in mid April, as a glimpse of his new stripped back EP. On 24 April he releases Lost in The Soft Light. It is a selection of five reworked versions of tracks from his debut album Without Fear. The collection will come with visual performances and includes Outnumbered, All My Friends and The Corner.
Here, watch the video of this new version for All My Friends.
Everyone is talking about…
Stardust, the podcast
This podcast is a six-part series delving into one of the worst tragedies in the history of the State. In 1981, 48 young people died and more than 200 were injured when a fire broke out during a Valentine's Day disco at the Stardust nightclub in Dublin. The families of the victims are still fighting for justice four decades on, and the podcast, produced by TheJournal.ie, asks how did Ireland get it so wrong first time around? The podcast recently won a gold medal at the New York Radio Festival's Radio Awards.
So far this week: Feelgood content
Read The Women's Prize Shortlist
The Women's Prize Shortlist has been announced. Judging panel Martha Lane Fox, Scarlett Curtis, Melanie Eusebe, Viv Groskop and Paula Hawkins whittled the list down to six books.
Dominicana by Angie Cruz
Girl, Woman, Other by Bernardine Evaristo
A Thousand Ships by Natalie Haynes
The Mirror and the Light by Hilary Mantel
Hamnet by Maggie O' Farrell
Weather by Jenny Offill
The 25th winner of the Women's Prize for Fiction will be announced on Wednesday, September 9.
Niamh O'Sullivan's simple chicken satay
Cooking all our own food at home is getting tiresome, but this chicken satay is a quick and easy meal to throw together. Perfect for a tasty, hassle-free mid-week dinner.
Now on Netflix
Series five of Peaky Blinders is now on Netflix. The series focuses on Tommy's new role as an MP.
For an uplifting true success story, watch The Last Dance, a docuseries about the phenomenal career high of Michael Jordan.
Meanwhile, Irish star Niamh Algar stars in the comedy Pure that is also now on Netflix. It's about a woman who can't stop thinking sexual thoughts, who decides to move to London to try to find answers.
Gastro Gays #covcookclub
On Wednesday Patrick and Russell served up some flavours of childhood.
Fitness
Yes it may seem like you should have more time on your hands to fit in a workout, but carving out a chunk of time for a long session can be challenging. Anna is encouraging her followers to break up exercise sessions into manageable chunks throughout the day. Try her #Strivefor5 challenge today.
Sustainability
It is Fashion Revolution Week. Use your voice online to ask 'Who Made My Clothes?'
Educate yourself by reading the Fashion Transparency Index 2020 too. Remember though — this list is soley based on transparency, which is good to know of course, but it may not translate to ethical standards in other aspects of the business. Find it here.
A fun activity to try at home is The Nuwardrobe's #5wears5days challenge. Choose an item of clothing you already own and wear it five different ways for five days.
Meditation
Start the day with a morning affirmation meditation with Insight Wellness. Robyn Taaffe shares inspiration for nutrition, movement and meditation ideas to try at home, to help you keep well during lockdown.
Monday – Friday, 20-25 April: Instagram Live
On Instagram this week, Aoibhín Garrihy's series #AtHomeWithBEO continues, with yoga, cooking demos and chats.
Holly White is also doing another week of fascinating conversations, kicking off with chats with author Louise O'Neill, makeupartist Leonard Daly and thought-provoking discussions on emotional eating and stress reduction.
Coming next week:
Tuesday, April 28: Normal People, RTÉ One
The TV adaptation of Sally Rooney's stunning novel is finally here. Made by BBC3, the series will also be shown on RTÉ One as well. From the trailer below, we feel it will be very close to the novel, so fans won't be disappointed.
Wednesday, April 29: Nadiya's Time to Eat on Netflix
Nadiya stole our hearts on Great British Bake Off with her breathtaking bakes. Now, she has created the show we all need right now — how to make delicious food at home, as quickly and easily as possible. We're going to be taking note of all her cheats, that's for sure.
Great British Baking Show winner, the all-around delightful Nadiya Hussain finally gets what she deserves: her own show! pic.twitter.com/Jalbvuy0gx

— Netflix (@netflix) April 15, 2020