To stand out at Seapoint or turn heads in Tramore, check out these sustainable bikini and swimwear brands
Deakin & Blue swimwear
This week marked the 75th anniversary of the birth of the bikini! With Love Island back on our screens, our favourite two-pieces are everywhere. Although we may be covering ours up with wetsuits these days, the power of the bikini prevails, something French historian Olivier Saillard once said is due to "the power of women, and not the power of fashion." If you're looking for some new pieces, and want to keep your wardrobe as green as possible, we've found some sustainable bikini and swimwear brands that will have you in the water in no time. The most important thing to remember is that every body is a bikini body. But if bikinis aren't your thing, we've also included some stunning one-pieces!
MONA is the dreamy brainchild of Irish designer Carla Johnson, who studied at NCAD in Dublin before moving to London. The brand boasts beautiful designs, sustainable materials, and a luxury feel. There's no better way of pretending Salthill is St Tropez than with a velvet two-piece! 
Advertisement. Scroll to continue reading.
Brigit Bandeau bikini top, MONA Swims, €120
Deakin & Blue is a UK-based brand with a range of sustainable and size-inclusive swimwear. Whether you want a two-piece with a little bit more coverage or comfort in the knowledge your purchase is an ethical one, you'll find something great at D&B. 
Plunge High Waister, Deakin & Blue, £110
allSisters are a swimwear brand born in Barcelona, with a "passion for the ocean". Their designs are eco-friendly and sustainable, made with recycled fishing nets, bottles, and fabrics. Their swimwear is comfortable, feminine, and stylish. It truly has something for everyone.
Nu-In fashion is a German brand committed to creating "beautiful clothing that doesn't cost the earth". Their swimwear is made from recycled plastic, and their designs are classic. Plus, everything is delivered in sustainable packaging. What's not to love?
AYA Label bathing suit, Nu-in, €89.99
ROXY is famous for its surfwear, and they recently launched the Mind of Freedom range. The sustainable line has some gorgeous summery pieces that are good for both the 'gram and the planet! Made from recycled nylon, the fabric is textured and comfortable.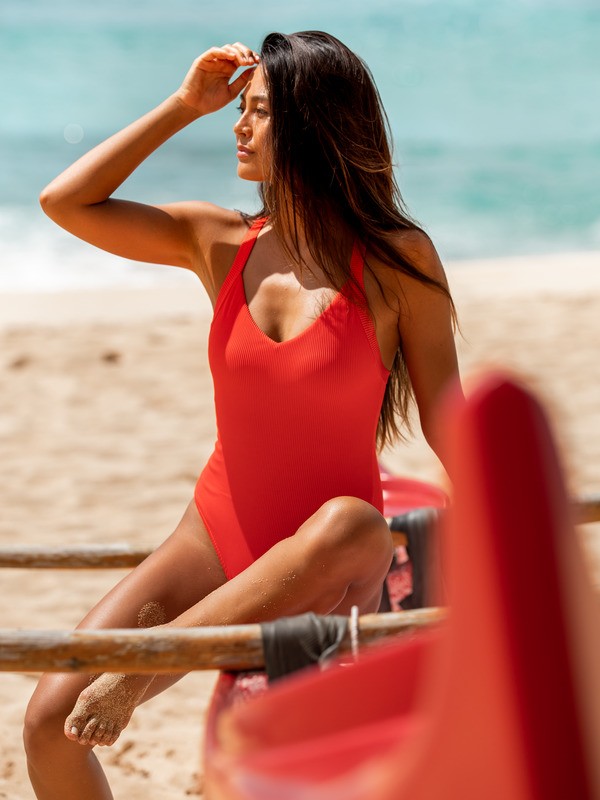 Mind of Freedom One-Piece, ROXY, €79.99
Davy J are experts in swimwear that is as stylish as it is functional. Their two-pieces are super versatile, you can roll the waist up to form a one-piece look or roll it down to keep them apart. What's more, their brand is entirely sustainable, with the swimwear built to last.