We're all for lockdown treats, but if you're tired of the usual go-to's, try these fun and very easy recipes
We have mastered banana bread, scones, and of course been dipping into the biscuit jar a bit since lockdown began, and it has been the comfort we needed.
But the old reliables are getting a bit tiresome after so many weeks at home, so here are some interesting but just as easy recipes to throw together as a treat. You can even freeze Indy Parsons's ice cream sandwiches for later – if they last that long.
Little Green Spoon's ice cream sandwiches
Indy Parsons is the blogger behind Little Green Spoon. Here's her delicious ice cream sandwich recipe. She recommends using gluten-free oats and oat flour, but you can try it with whatever you have. 
Ingredients:
170g of nut butter
45ml of melted coconut oil
60ml of maple syrup
100g of gluten free oat flour
75g of gluten free oats
1 teaspoon of baking powder
50g of dark chocolate
500ml of vegan ice cream
Method:
Preheat the oven to 180'C.
Use an electric mixer to whisk together the nut butter, melted coconut oil and maple syrup until smooth.
In a separate bowl, mix together the gluten free oats, oat flour, baking powder and a pinch of sea salt.
While mixing, add the dry ingredients into the wet.
Chop the chocolate and mix it into the dough.
Roll about 2 tablespoons of dough into a ball for each cookies and flatten them out on a lined baking sheet. I make them roughly the size of the ice cream lid.
Bake for 10-12 minutes until golden, then set the try aside to cool for about 30 minutes on a wire rack.
When the cookies have cooled for about 15 minutes, take the ice cream out of the freezer to thaw.
When it's softened a little, turn the tub on its side and use a sharp knife to cut through the tub into slices. Peel the tub off each piece and sandwich it between two cookies.
Eat straight away or freeze for later. Remove from the freezer 5-10 minutes before eating.
Roz Purcell's peanut butter brunettes
We've all heard of brownies and blondies, but Roz is encouraging us to shake things up with this nutty alternative.
Ingredients:
400g crunchy peanut butter
150g coconut sugar
5 eggs
1 tsp baking soda
200g dark chocolate broken into pieces
1 tsp vanilla seeds or extract
Method:
Preheat oven to 170°C.
In a medium sized mixing bowl, combine the peanut butter, coconut sugar, eggs, baking powder and vanilla using a fork mix until smooth.
Stir in half of the chocolate chips.
Pour the mix into a lined brownie tin (8″x8″ lined or greased. The mix should be at least 4 cm in height in the brownie tin).
Bake in the PREHEATED oven for 25 minutes, the brunettes should rise up in height, be lightly browned and and firm on top.
Remove and sprinkle over the rest of the chocolate chips which should melt from the heat of the brunettes, let sit for 15-20 minutes before slicing and having a bite!
Donal Skehan's honey and ricotta cheesecake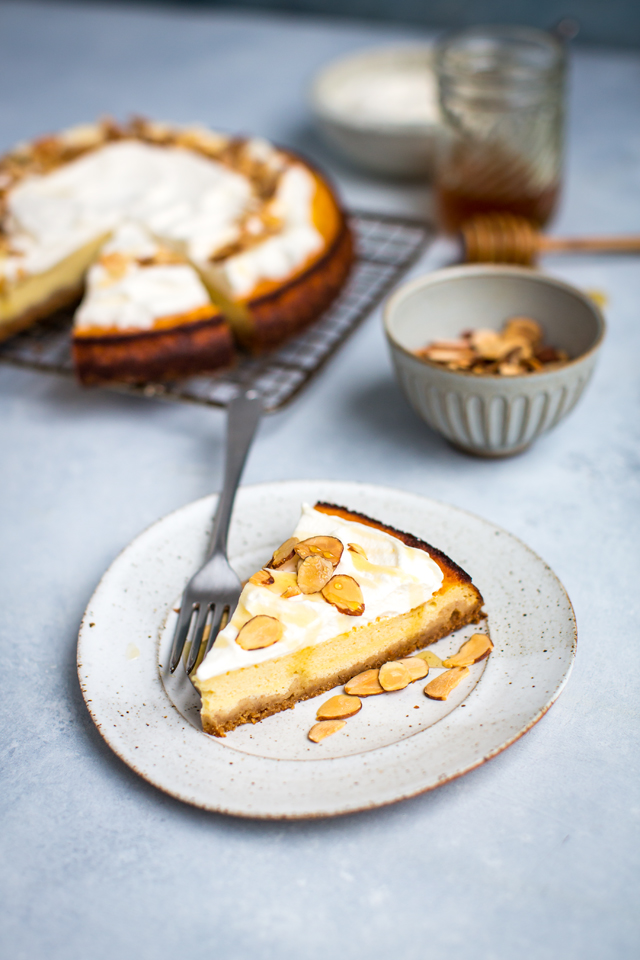 This different take on cheesecake seems very impressive, but it is a cinch to throw together.
Ingredients:
300g gingernut biscuits, blitzed to a fine crumb
150g butter, melted
500g ricotta cheese
250g mascarpone
100ml cream
100ml honey
4 eggs, beaten
Zest and juice of 1 lemon
50g plain flour, sifted
3 figs, to serve (optional)
25g toasted flaked almonds
Method:
Preheat oven to 180C/350F/Gas Mark 4. Grease and line a 20cm springform cake tin with parchment paper on the base and sides, set aside on a baking tray.
Combine the biscuit crumbs and butter until completely mixed through. Press this mixture into the base of the cake tin. Place in the oven to bake for 10 minutes. Remove from the oven and allow to cool.
In a mixing bowl, whisk together the ricotta, mascarpone, cream and all but one tablespoon of honey until smooth and creamy. Whisk in the eggs one at a time until completely incorporated. Followed by the lemon and flour.
Pour the filling over the biscuit crumb base and smooth off the top.
Place the cheesecake in the oven and bake for 40 minutes or until golden brown. Turn off the heat and allow to cool in the oven with the door slightly ajar. Once cooled serve by cutting the figs in half, placing on top of the cheesecake, drizzle with the remaining tablespoon of honey and sprinkle with the flaked almonds, serve.
Discover brilliant recipes and much more inside our beautiful new issue, in shops and available for digital download now.