Looking for some staycation inspiration? RTÉ has got you covered
Go Outside and Play is back this summer for a brand-new series Go Outside and Play; Famous Locations. Carl Mullan isn't going it alone this time round though. New co-presenter Karl Doyle joins him on his journey. Since Karl is a wheelchair user, the new series has a great focus on accessibility. The pair explore some scenic locations around the country that are as iconic as they are stunning. If you're planning your staycations around Ireland for the summer, you'll definitely get inspired.
From Braveheart's mountainous landscape, Game of Throne's Dark Hedges, to the home of the legendary Father Ted house, we get to see it all. The series will be on RTÉ Player with full subtitles and Irish Sign Language accessibility options.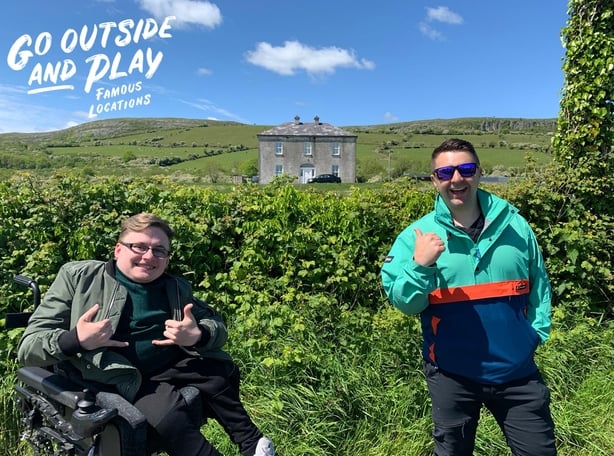 Episode 1-4 overview
Hollywood blockbuster film Braveheart was a must on the list, with some interesting facts up their sleeves the guys visit a beautiful castle, explore the depths of the Wicklow Mountains and Carl gets very into Mel Gibson's 'William Wallace' character.
Northern Ireland has become hugely popular ever since the cast and crew of Game of Thrones descended there for filming. We see the presenters visit some of the iconic sights. There's even an eventful pre-dawn visit to The Dark Hedges which doesn't exactly go to plan.
Carl & Karl are MASSIVE fans of Father Ted so it was only natural they would want to hit the West of Ireland. The duo visit the home of Father Ted, squeeze in a visit to the picturesque Burren and are on the hunt for a very famous shipwreck on the island of Inis Oirr.
The Irish written PS I Love you had to make the list! The guys make their way to the infamous bridge in Wicklow and explore everything the beautiful Blessington has to offer. Plus, Karl has an interesting activity lined up for them both on a scenic lake.
Available on RTÉ Player from 16th of July