Spring, summer, winter or fall, all your skin needs is a regular spritz of these nourishing sprays
You may use day cream, night cream and serum, but still find that your skin feels sapped of moisture. Harsh indoor heating in colder months, late nights and alcohol can all lead to the skin feeling tight and dehydrated — so it's no wonder our skin feels lacklustre in January. And of course when temperatures rise, skin can feel hot and bothered and in need of a cooling burst of hydration — but sweat, SPF and heavy moisturisers can contribute to clogged pores.
The answer? A light and refreshing mist could be just the tonic for your skincare woes. There are so many on the market to cater for all the different skincare concerns. Physically they are a joy to use — a refreshing spritz can help you feel more alert at your desk in the winter months when you can't get outside, and will cool and soothe the skin in warm, summer months.
Plus, these sprays are a very affordable addition to your skincare routine, as you can find one with lots of nourishing properties for less than €20.
Here are just some of the ways to use a spray:
after makeup removal, to soothe the skin
some can be used to set your makeup and hydrate over makeup
use after hair removal, shaving or other skin treatments to relieve stinging
when travelling, to provide relief from the drying effects of recycled air
after exercise, spritz to cool and hydrate the skin
if you work indoors, misting can alleviate the drying effects of heating and air conditioning
soothe sunburn
relieve dry and irritated eyelids
Here are some of our favourites:
Uriage Thermal Water spray €5 for 50ml/€8 for 150ml
Advertisement. Scroll to continue reading.
You've no doubt heard of thermal water, but do you actually know what that means? Us neither. Thermal water is found in hot springs. This water comes from deep in the ground, where it has been heated by geothermal activity, the natural heat of the earth.
This water must pass through rocks and soil to reach the earth's surface, which dissolve, adding minerals to the water. Uriage Thermal Water spray is 52x richer in minerals and trace elements than competing products. These minerals give this water intense therapeutic properties. It will hydrate and soothe the skin, and is proven to provide 32% more hydration for your skin within an hour of application. It is anti-inflammatory and helps reinforce the cutaneous barrier — strengthening this barrier from external irritants that may cause sensitivity.
And if you're heading skiing or like to top up your SPF throughout the day, you can get this spray in SPF 30 (€13 for 50ml).
VOYA Ritzy Spritzy Facial Spritz, €27.50
This versatile spritz will gently tone, cool and sooth the skin. Use it morning and evening as a luxurious toner, but use it throughout the day when you need a burst of hydration. It will help to firm and cool the skin and will leave the skin fresh and dewy. When using it as a toner, after cleansing spray onto cotton pads or directly onto the face and neck and wipe gently, avoiding the eye area. The toner is made with a blend of organic botanical herbs and essential oils. The product is made with 91% certified organic ingredients and is vegan-friendly.
Avène Soothing Thermal Spring Water Spray, €14.99 for 300ml
This thermal water spray is essential for sensitive, allergic or irritated skin. Over 12 years of research has revealed that the secret in this spray is the unique microflora, aqua dolomiae, with provides a unique and natural soothing and anti-irritating properties.
The low mineral content is ideal for skin that tends to react to other products. It's rich in silica which helps by leaving a protective veil on the skin's surface. This product is manufactured in a sterile environment too, meaning there is no expiry date and therefore no need for harsh or irritating preservatives.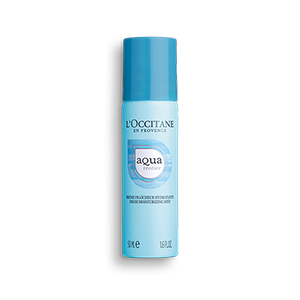 L'Occitane Aqua Réotier Fresh Moisturising Mist, €16 for 50ml
This mist harnesses the powers of the incredibly calcium-rich Réotier water in France, and combines it with super hydrating hyaluronic acid to add moisture to the skin. It's ideal for quenching the thirstiest skin. Instantly hydrating and energising, the products high calcium content helps to maintain the skin's hydration barrier, boosting the skin's ability to retain moisture. Apply this one before makeup, as the invisible formula will help keep makeup set throughout the day.
Caudalie Beauty Elixir, €14.45 for 30ml
This facial spray takes its inspiration from the centuries old 'elixir of youth' used by Queen Isabelle of Hungary. Acting like a vitamin shot, it provides a burst of radiance to the complexion, thanks to a formula infused with grape, rosemary, orange blossom, rose, myrrh and organic balm mint. Grape refreshes, rosemary tones, mint balm has astringent properties and mint essential oils will uplift your mood.
Like a toner and serum hybrid, this nourishing spray will minimise pores and awaken the skin. This is a truly refreshing spray that's ideal to keep in your desk drawer.