Releasing a book is a nerve-wracking time, and imagine trying to do so right now. Here are the books to buy and pre-order now to support writing talent and booksellers this March
The prospect of a few quiet weeks spent at home means that the only course of action is to stock up on some quality reads. Coincidentally, this month there are stunning new books hitting shelves, so you won't be lost for a great companion to curl up with as your family climb the walls around you.
And if your house doesn't look like this yet, do visit your local bookshop for books books books and #selfisolating tips. After all, bookish people are deep experts in self isolating with panache! https://t.co/Hj40n1TawZ

— Sheelagh na Gig (@sheelaghnagig) March 13, 2020
In a time when the world is a really scary place, it must be incredibly daunting for authors to also have a book they need to shout about. Yes, the news is very consuming at the moment, but these people have spent years crafting these wonderful stories, only for a virus to steal the limelight. At a time when we need stories more than ever before, here are the best new releases this March.
Remember, support your local bookshop where possible. You can still shop online at this time. Dubray books is offering a 10% discount off all books online, using the promo code ReadOn.
Just a friendly reminder that we sell books over the phone and can post them directly to you. We're happy to help with any recommendations if needed also. RTs appreciated.

— Hodges Figgis (@Hodges_Figgis) March 13, 2020
Kennys Bookshop, Galway.

Enabling book addiction since 1940 😀https://t.co/GU6VzE7Obm https://t.co/MGALsxtJD1

— 13Pillars (@ThirteenPillars) March 13, 2020
March's new releases
Alice Lyons
The Lilliput Press
1 March
Advertisement. Scroll to continue reading.
Oona is an artist in the making, living in an affluent suburban culture of first-generation immigrants in New Jersey, where white privilege and conspicuous consumption prevail. The denial of death is ubiquitous, which Oona experiences first hand when she is not told that her mother is dying of cancer upstairs. Afterwards, a silence grips her from the inside and emotionally hobbled, she has her first encounters with sex, drugs and other adolescent challenges.
With echoes of Lydia Davis, Beckett, Eimear McBride and Max Porter, Oona is a nuanced narrativisation of the dislocation, disruption and stasis of grief, a treatise on silence, a drift on desire and sexual awakening.'
–Susan Tomaselli editor @gorse_journal @LilliputPress pic.twitter.com/qSE9qTfqds

— Alice Lyons (@alicelyons22) February 24, 2020
Alan McGonagle
Picador
Out 5 March
Her father always told her she was destined for stardom. It has gone slower so far then they both would like, but now that the new theatre is finally opening, her big break feels closer than ever. She must get past her meddlesome older sister, and she won't be telling her mother about this audition, not after last time. Her occasional leading man and on-off lover thinks this is all just a waste of time, but she knows that this could be it. This story about a dangerously optimistic troubled soul will capture your heart.
Celebrating the launch of Laura Cassidy's Walk of Fame, the second novel by @mcmonaglewriter, who read brilliantly at @Hodges_Figgis. Hope someone publishes Mia Gallagher's introduction (an essay in itself). https://t.co/bc5jWpNhGZ @picadorbooks pic.twitter.com/iodkfbpF3g

— Sinéad Gleeson (@sineadgleeson) March 12, 2020
Hilary Mantel
4th Estate
Out 5 March
The conclusion to the modern classic trilogy Wolf Hall is here, and carries the reader through the final tragic era of Thomas Cromwell's life. Having ascended from poverty as a child to the upper echelons of Henry VIII's court, Cromwell has all of England at his feet. But his enemies are lurking in the shadows and he knows that no one is safe from Henry's cutthroat rule. Eight years in the making, this book takes the reader deep into the Tudor world and the passion and drive of politician and fixer Cromwell.
Josie Silver
Penguin
Out 5 March
Freddie and Lydia have been together for more than a decade. She thought their love was indestructible, until Freddie was taken from her in a car crash, on her 28th birthday. When all she wants to do is hide from the world and sob in her bedroom, she knows she needs to embrace her life. But something unbelievable happens and she has the miraculous chance to visit two worlds, the current one, and one where nothing went wrong and Freddie is still with her. But returning again and again to world where Freddie still owns her heart takes its toll on her, especially when there is someone in the real world who wants her to stay.
Hilary Fannin
Doubleday Ireland
Out 5 March
Hilary's first fiction novel has wowed critics. Set in London in 1996, Robin and Ruth meet in a staff room of an East London school. Robin falls instantly in love, but recently bereaved Ruth is tentative. When Robin introduces Ruth to his childhood friend Joseph, the attraction is instant, and Robin watches on, powerless, as the two embark on a turbulent, passionate affair. In 2017, it is Robin and Ruth who are married, now living in Dublin, and have a child called Sid. The marriage is haunted by the ghost of Joseph, and a distance grows between them. This is an intimate look at the complexities of marriage and how we love who we love.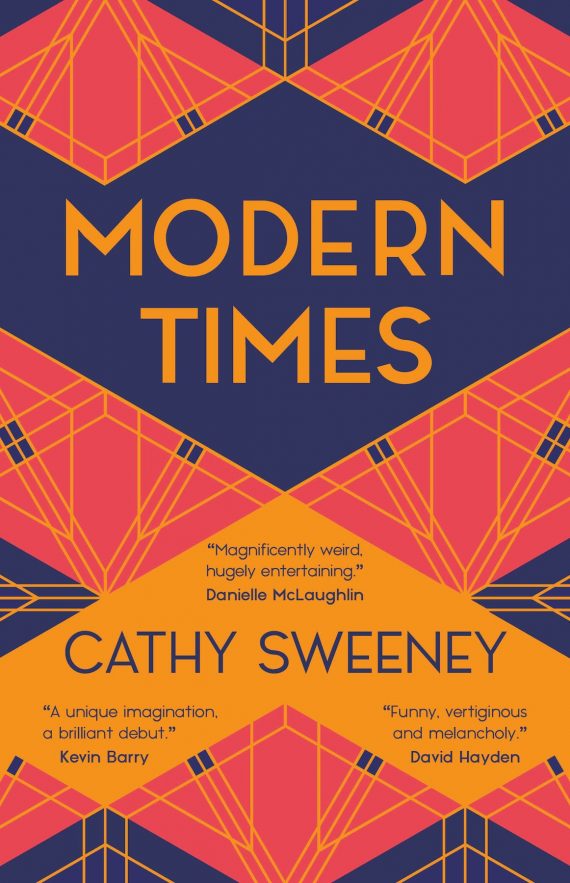 Cathy Sweeney
The Stinging Fly
Out 10 March
The first collection of stories from the acclaimed writer is everything her fans will have hoped for. Hilarious and obsurd, the stories range from a woman who befriends her husband's sex doll, a man making films without a camera and a married couple taking turns to sit in an electric chair.
Published by @stingingfly, Cathy Sweeney's marvellous debut collection has just hit our shelves in time for the weekend 🙌🏼 pic.twitter.com/Y7Oew8DUdh

— Hodges Figgis (@Hodges_Figgis) March 13, 2020
Liz Nugent
Penguin
Out 19 March
Three brothers are at a funeral — one in the coffin. Will, Brian and Luke have always competed for their mother's unequal love. They betray each other over and over until one of them is dead. Which brother killed him? The praise for Nugent's latest work has been emphatically positive, with Marian Keyes deeming it, "MAGNIFICENT. Her best yet, and that's really saying something."
Thank you to @lizzienugent who called in to us in Bray today to sign ALL of these copies of her new book #OurLittleCruelties. It will be released early next Thursday 19th March and you can pre-order a signed copy here https://t.co/mIWwpwjMZP.@PenguinIEBooks @PenguinUKBooks pic.twitter.com/DpDuhxLPdb

— Dubray Books (@DubrayBooks) March 13, 2020
Sebastian Barry
Faber & Faber
Out 19 March
In the follow up to Barry's Costa winner Days Without End, we're reunited with Thomas McNulty and John Cole. This time, the narrator is their adopted daughter Winona, an Native American orphan. She is becoming a young woman, and hopes to marry a Polish boy who works at the local store, who doesn't seem to mind her heritage, unlike the others in the town. When she is raped, the culprit is unknown, and the fallout is devastating.
If you're looking for a new read, look no further. Sebastian Barry's brand new book is wonderful & beautifully written. Set in 1870s Tennesse, it's the story of a woman's journey to build a better future for herself. We also have copies signed by Barry! > https://t.co/DZyIi1f1Gp pic.twitter.com/kRIzqsUFGv

— Kennys Bookshop (@KennysBookshop) March 13, 2020
Laura Elliot
Sphere
Out 19 March
This psychological thriller begins with Adele finding the secret diary of the mother she never met. Inside, she reads the shocking account of a crime commited over 25 years ago. Pocketing the diary, she delays joining her fiance for her new life abroad, to return to the area where her mother was last seen alive. Adele was born into a Mother and Baby home, and she is determined to find out who committed this devastating attack on her mother. No one in the small communtiy wants to tell Adele the truth, but she slowly unravels the layers of deceit.