While the final whistle of last night's Euro 2020 championship sparked joy for Italy and sorrow for England, it sparked fear for many more
Warning: this article contains mentions of physical and sexual violence. 
Photo by Danie Franco via Unsplash
As you're likely to have seen across social media, rates of domestic violence increase in the UK whenever a football match ends. A Lancaster University study showed that emergency calls regarding domestic violence increased by 26% when the national team won or drew. This number jumped to 38% if the national team lost. 
The Centre for Economic Performance (CEP) claims that the surge is linked to an increased intake of alcohol. With weekend football fixtures, many fans have the opportunity to spend the day drinking. As a result, their partners can suffer.
Advertisement. Scroll to continue reading.
In Ireland
The shocking statistics are not confined to the UK. According to Women's Aid Ireland, 1 in 4 women who have been in a relationship experience abuse by a partner. Similarly, a European Union study by the Fundamental Rights Agency (FRA) found that 14% of Irish women have experienced physical abuse, 6% have experienced sexual violence, and 31% have been victims of psychological abuse.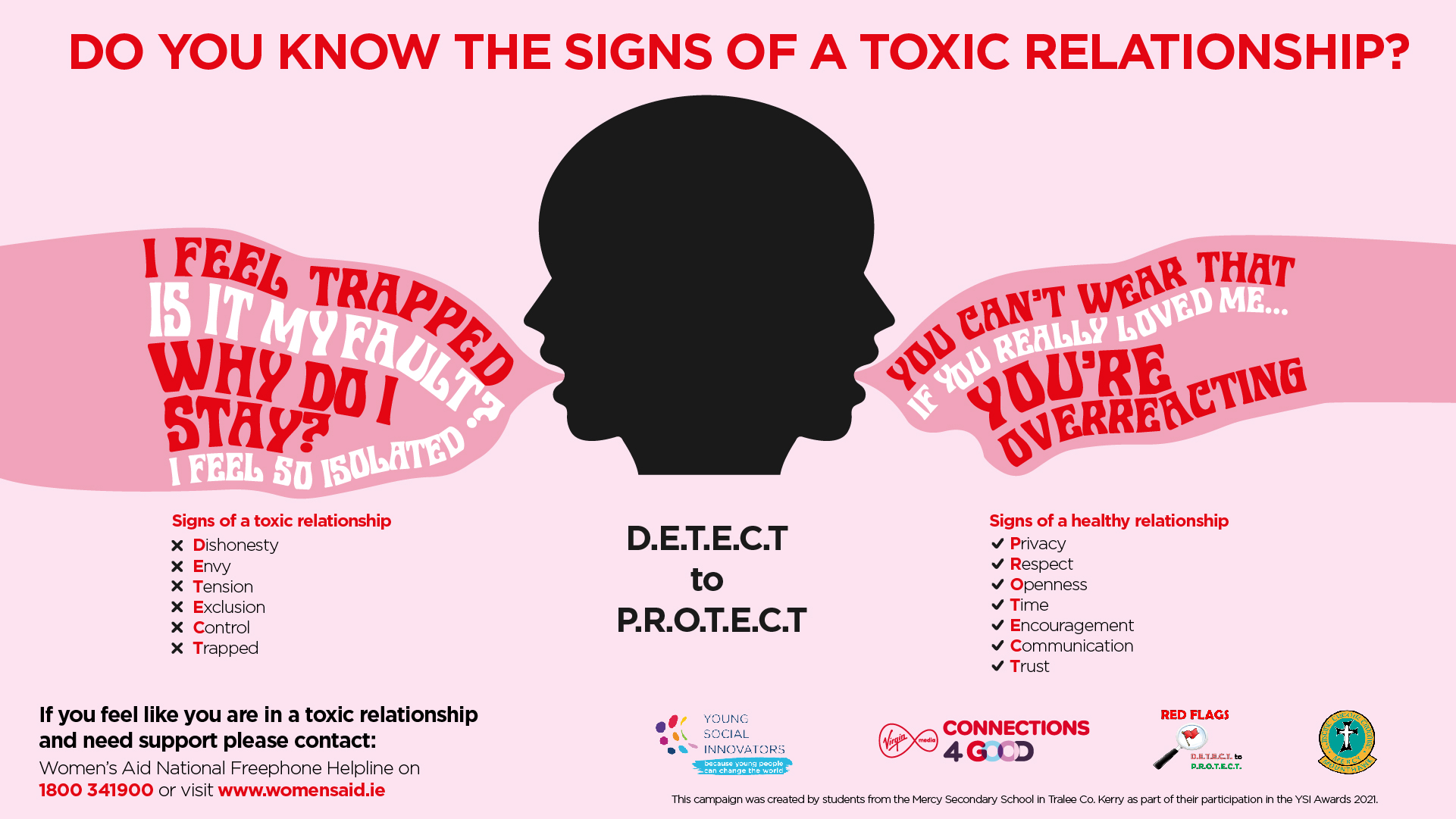 Image via Young Social Innovators
One national study found that 60% of those abused first experienced violence under the age of 25. As a result, it is important that young people become aware of the signs, and the resources available. Thankfully, an initiative by students from Mercy Secondary School in Tralee hopes to do exactly that. This month, 'Red Flags' won the Young Social Innovators Gold Award and the Virgin Media Digital Innovators Award. The project spotlights the signs of a toxic relationship, to encourage the safety and awareness of countless young people.
It is important to note that while the majority of domestic violence cases involve violence against women, it can be a reality for any gender. If you're worried about yourself, or someone close to you, you can find resources below.
Resources
1800 341 900
National Freephone Helpline
24 hours a day, 7 days a week
If you're worried about your browsing history, Women's Aid has a guide to covering your tracks online. 
Safe Ireland: Information for male victims