Fancy changing up your usual go-to pancake recipe? Here are some indulgent ideas to try for Pancake Tuesday
Are you loyal to your staple lemon and sugar pancakes or do you like to switch things up each year? Treat your tastebuds to these intriguing flavour combinations for a proper treat this Tuesday. Happy flipping!
Basic pancakes
Makes 12
Ingredients:
2 eggs, plus 1 extra yolk
225g plain flour
1 dessertspoon sugar
pinch salt
200ml buttermilk
scant 1/2 teaspoon baking soda, sieved
50g unsalted butter
butter, for frying
Method: 
Advertisement. Scroll to continue reading.
Whisk the eggs and extra yolk into the flour. Add the sugar and salt and stir in the buttermilk along with the melted butter and baking soda. (Tip: You are aiming for a consistency similar to whipped cream)
Depending on your flour, you may need to add a little more or less water. Test by spooning a little of the batter onto a lightly oiled frying pan – it should hold its shape well.
Heat a suitable pan lightly brushed with oil. When hot, pour in just enough batter depending on the size you require. Cook for 1-2 minutes until bubbles appear on top.
Flip over and cook the other side until lightly browned. As you cook them, keep the pancakes warm piled on a plate in a warm oven for up to 30 minutes.
Toppings to try
1. Lemon curd and roasted pistachio
A sprinkle of roasted pistachios elevates Avoca's delicious lemon curd for a pancake recipe that feels fancy, while still delivering that zesty flavour we all love. Take 200g peeled, unsalted pistachios and roughly chop. Roast them at 180 degrees for 10-12 minutes, tossing occasionally.  Allow to cool, then stack your pancakes, top with a spoon of Avoca Lemon Curd and scatter with some pistachios.
2. Gluten-free homemade chocolate spread
You read that right. This delicious spread is easy to make and will be enjoyed by all. Plain, unflavoured nuts are naturally gluten-free, and you can easily adapt the pancake recipe above by using gluten-free flour instead.
Ingredients: 
110g unsalted butter, softened
120 hazelnuts
175g dark chocolate, chopped into small pieces (or use chocolate nibs/discs)
50g of gluten free milk chocolate chopped(or use chocolate nibs/discs)
1 x 400g tin of sweetened condensed milk
Pinch of salt
1 tablespoon boiling water
Method:
Preheat the oven to 170°c.
In a non-stick pan melt 1 tablespoon of the butter. Add the hazelnuts and cook over moderate heat until just beginning to brown.
Transfer the nuts onto a non-stick baking sheet and roast the nuts for about 5 minutes.
Transfer the nuts onto a clean tea towel and rub off the skins from the nuts in the towel. Take care while doing this as the nuts are hot. Then allow to cool slightly.
In a food processor, mix the hazelnuts with both chocolates and blend until the nuts are finely chopped and the chocolate just begins to melt, this takes about 3 to 4 minutes
In a small stainless-steel saucepan, heat the condensed milk with the salt until warm.
With the food processor running, add the warm condensed milk and blend until it is completely mixed. Add the remaining butter and blend until smooth. Add the boiling water and blend until creamy.
The spread will keep for 2 weeks in the fridge, bring it to room temperature to use.
3. Percy Pig sauce
Yes, really. M&S has unveiled a Percy-inspired sauce that will satiate any sweet tooth.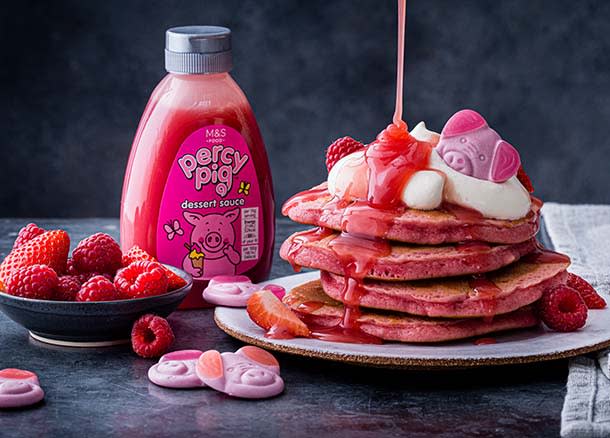 4.  Chocolate Oreo Crêpes
Take inspiration from Gino's Gelato's most popular crêpe, which includes crushed Oreos, white chocolate sauce, fresh cream and Gino's melted Oreo variegato. The difference between pancakes and crêpes? Pancake batter has a raising agent in it, such as baking powder or bicarbonate of soda, and crêpe batter doesn't. This means that pancakes are thicker and fluffy, while crêpes are thin and flat. It's also worth noting that Gino's Gelato is giving away free sugar and lemon or free Nutella crêpes on Pancake Tuesday from 9am-12pm in stores nationwide. Gino's Gelato has 28 locations including Dublin, Cork, Galway, Waterford, Wicklow, Mayo, Limerick and Kildare, but the free crêpes won't be available at the Liffey Valley store.
Main image: Vlada Karpovich from Pexels