There is so much happening on the arts scene this summer. Here are just some of the exhibitions worth taking time to explore.
The Doorway Gallery Summer Show
From now until August 15, is an eclectic mix of landscapes, still life and portrait work. The work in the exhibition is large and impressive, with a variety of works by artists including Iain Holman, Corine Ko, Eithne Roberts (each seen below, respectively) and more. Find out more at www.thedoorwaygallery.com. 
Advertisement. Scroll to continue reading.
Jane Rainey at the Molesworth Gallery, Dublin
The Horizon is Never Still by Jane Rainey runs at the Molesworth Gallery from 4-31 July. This striking collection has her signature bright coloured landscapes and distinctive playful style. See the full exhibition here. 
Lavery & Osborne: Observing Life
This exhibition at the Hunt Museum in Limerick features selected works by Sir John Lavery and Walter Frederick Osborne, two of Ireland's foremost artists of the late 19th and early 20th centuries.
Pair of Pomeranians, Walter Osborne
Mrs Winston Churchill and her daughter Sarah, Sir John Lavery
Marianne Keating at Crawford Gallery, Cork
Running now until 22 September, The Ocean Between is a collection of Marianne Keating's current work, addressing the hidden histories of the Irish diaspora in the Caribbean. Marianne has traced the migration of Irish from ports in Cork, Limerick and Belfast, and will look at the role of the Customs House in the 18th century, the building which now houses the Crawford Gallery.
Freud Project, Life Above Everything: Lucian Freud & Jack B Yeats
This landmark exhibition will for the first time examine the interconnections between renowned British artist Lucian Freud and Irish painter Jack B Yeats. Freud had a lifelong interest in Yeats' work. This substantial exhibition includes 33 works by Freud and 24 by Yeats. The exhibition runs at IMMA until 19 January 2020.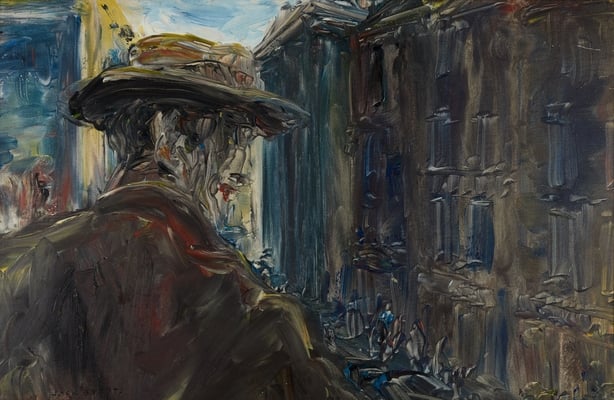 From the Tram Top by Jack B Yeats 
Girl with Roses by Lucian Freud