In klöver is a haven filled with the most stunning Irish-made gifts plus homewares and crafts to fill your home with

Stepping foot into in klöver is a dream for Team Irish Country Magazine as it is filled wall-to-wall with stunning brands made here in Ireland. Thoughtfully curated to reflect the best in Northern Irish design, in klöver is a gem waiting to be discovered in the small, picturesque village of Hillsborough in Co Down.
Started by sisters Claire and Lucy in 2016, the shop is truly supportive of local independent makers and some finds from further afield. It really adds to the vibrant community in Hillsborough, and when you pay a visit you're likely to bump into one of the many talented craftspeople involved.
Meet the Makers

Here's a snapshot of some of the incredible finds at in klöver:
Aoife Slattery
Aoife is from Cratloe and studied at Limerick School of Art and Design. Based now in Ballymorris Studios in County Clare, her contemporary ceramic homeware is achieved through combining a printing process with the material of earthenware clay.
Advertisement. Scroll to continue reading.
Bearded Candle Makers
Michael Morris creates handmade scented candles that convey the true smells of Ireland, free from paraffin, petroleum or palm wax.
Claire Newell
Claire works from her home studio in Ballyrobert, creating porcelain bowls that are handmade and hand decorated. Her designs take inspiration from nature and the subtle hues and delicate textures will look beautiful in any space.
Flax Fox Designs
Danielle Morgan is an artist and illustrator, who focuses on local landmarks and  buildings in Northern Ireland. She then prints her designs onto 100% linen tea towels and bags. This Hillsborough Skyline design was commissioned by and exclusively available at in klöver. 
Harry Toner
Harry took up woodturning when he retired from working as a physics teacher. He is self-taught and creates decorative pieces on various types of wood in his home workshop.
Living Ginger Designs
Creating beautiful contemporary ceramics by hand in Oughterard Co Galway, Louise Browne's work is delicate and beautiful. We love the floral collection, and the fish one will certainly work in a nautical themed home.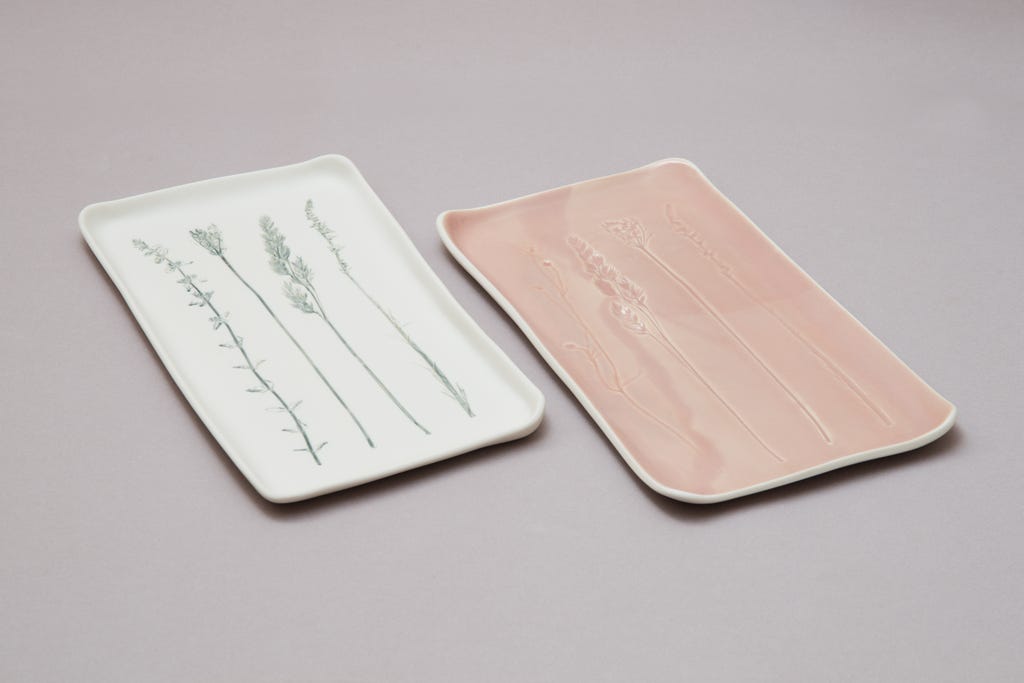 Ruth Osborne
Ruth creates mixed media original works on Irish linen. Each piece is completely unique and inspired by the seasons and the landscape around the Strangford Lough coastline.
Rebecca Killen
Based in Dundrum, Northern Ireland, Rebecca is a ceramicist who creates fine bone glazed china bottles and dishes. Each piece is distinctively decorated in delicate contrasting patterns of cobalt blue.
Nicola Gates
Growing up on a small farm in county Fermanagh, Nicola developed a love for nature and making things. She learned to weave at NCAD and now creates modern and imaginative pieces from wool for her brand, Olla Nua.
Debbie Montgomery
Based in Belfast, Debbie creates fun cards for her brand Debmon Design. Available for a range of occasions, the cute robot is a fun and distinctive theme of her cards.
Averil Milligan
From Downpatrick, Averil Milligan is a horticultural expert. Having worked at the National Trust's Rowallane Gardens in Saintfield, Averil is inspired by the world famous gardens and has created her own range of soaps and body butters. Fragrant, luxurious and chemical-free, they are infused with plant and herb oils and natural ingredients.
There are plenty more makers from Ireland and the UK to discover at in klöver, open Monday to Saturday, 9.30am – 4.30pm in November and December. Visit inklover.co.uk for more.