For the busy mornings when you don't have time to make a breakfast.
Like they say, the best way to start your day is with a delicious and nutritious breakfast! However if you find that you don't have time in the mornings to make breakfast, why not have a snack ready to grab and go? Sometimes if you are up really early or have to get the little ones ready for school, you might not have the time or even be in humour for a heavy breakfast, so it is really handy to have some breakfast bars or muffins ready in a lunch box to just throw in your handbag and eat on the way.
We've found some really easy-to-make breakfast snacks that will be perfect for busy mornings. These dishes are also really tasty treats to have with a cup of tea throughout the day. You can adapt the recipes to add or remove any ingredients.
Keelings Blueberry Oatmeal Breakfast Bars
Advertisement. Scroll to continue reading.
Makes: 12
Ingredients:
75g blueberries
1 banana, mashed
50g light brown sugar
4 tbsp honey
50g coconut oil, melted
250g oats
2 tbsp sunflower seeds
2 tbsp pumpkin seeds
2 tbsp flaxseed
Method:
1. Preheat oven to 160°C/140°C Fan and line a baking tray with parchment paper.
2. In a large bowl, mix together banana, sugar, honey and coconut oil until well combined. Add the oats and mix through. Add the blueberries and gently fold into mixture.
3. Spoon mixture onto a prepared tray, flatten mixture down with your hands until evenly spread. Sprinkle the top with the seeds then gently press them in with your hands to make sure they stick.
4. Bake for 12-15 minutes, then remove from the oven and leave to cool slightly before cutting into bars. Leave to cool completely then enjoy.
Ingredients:
30g ground flaxseed + 185ml of water
200g gluten-free (or regular) oats
1 tsp cinnamon
35g sesame seeds
2 tbsp seeds- chia, pumpkin, sunflower etc (35g)
25g flaked almonds
60ml maple syrup or honey
140g nut butter
Pinch of sea salt
Method:
1. Mix together the flaxseed and water in a small bowl and set it aside for about 5 minutes to thicken. Stir it once in the middle.
2. Add the oats, seeds and cinnamon to a large bowl and mix them to combine.
3. In a small saucepan on medium heat, whisk together the nut butter, sea salt and maple syrup until smooth.
4. When the flax mixture is the thickness of a raw egg, add it to the oats along with the nut butter mixture. Mix well.
5. Line a baking tray with parchment paper and press the mixture very tightly into the tin.
6. Bake at 180'C for 20 minutes until golden. Leave to cool and then slice.
Natural Born Feeder Oat Chocolate Cookies
Serves: 6
Ingredients:
150g oats
3 tbsp honey
4 tbsp smooth peanut butter
2 tsp vanilla extract
8 tbsp almond milk
Pinch sea salt (optional)
Toppings:
50g dark chocolate to drizzle
Method:
1. Preheat the oven to 200°C.
2. In a blender, combine the cookie base ingredients into a dough texture.
3. Spoon 1 tbsp. sections of the dough mixture onto a baking tray lined with parchment paper. Press down each cookie to roughly 3cm in height and shape on the baking tray.
4. Bake the cookies for 15-20 minutes.
5. Drizzle the cookie with melted dark chocolate and enjoy.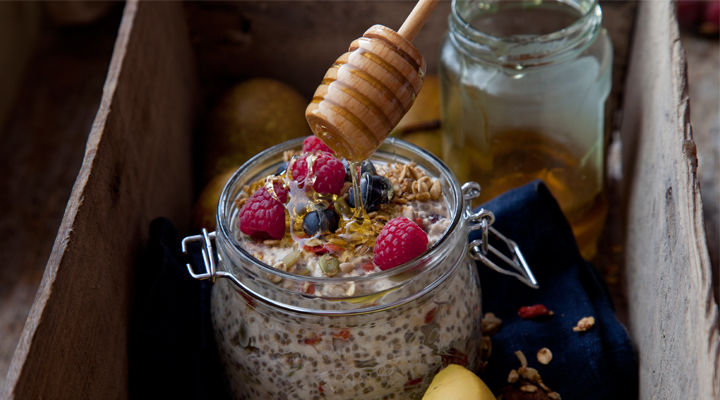 Ingredients:
400ml Alpro Rice Original
1 tbsp goji berries
2 tbsp raisins
1 tbsp pumpkin seeds
100g quick oats
2 tbsp chia seeds
Toppings:
1 apple, grated (or pear)
1 banana
1 handful granola
1 natural yogurt
1 handful blueberries
1 handful raspberries
Method:
1. The night before, put the oats, raisins, chia seeds, goji berries and pumpkin seeds into a bowl or container and mix.
2. Add the rice milk, cover and put into the fridge. It looks very nice in a Kilner jar if you have one.
3. In the morning, simply add your toppings. The oat base will keep for 2 to 3 days in the fridge.
Serves: 12
Ingredients:
2 medium eggs
170ml milk
100ml olive oil
270g self raising flour
70g caster sugar
pinch salt
250g frozen blueberries
3-4 tbsp brown sugar, optional
Method:
1.Preheat the oven to 200°C, gas 6.
2. Mix together the eggs, milk and the oil.
3. In a separate bowl mix the flour, sugar and salt.
4. Mix the wet ingredients with the blueberries.Then add dry ingredients lightly.
5. Spoon into 12 muffin cases, and sprinkle with the brown sugar. Bake for 20-25 minutes, or until well risen and lightly coloured.
6. Cool, then eat.