It's no secret that Ireland's creatives flock to the West Coast to bask in the thriving craft scene and the ever-inspiring landscape. So naturally, along the Wild Atlantic Away, you will find many craft and design shops that are home to beautiful Irish-made jewellery brands. You could support these makers by shopping on their online stores, but sometimes its nice to hold a piece in your hand and see it in the flesh before making a purchase. It's also worth supporting these brilliant shops that are giving these makers a home! Whether you are looking for a special gift or investing in a piece for yourself, there are some really exciting shops to make sure you pop into when you are exploring the West this summer.
2 Wild Geese, Galway
This relatively new shop is a hub for Irish design and really works to support makers here in Ireland. Here you will find Andrea Mears' striking jewellery, unique Wood Life watches, colourful earrings by Emma Larkin Design, quirky jewellery by Iasc Designs and more. 
Run by sisters Kathleen and Tara McGowan, the shop stocks a well curated mix of Irish handmade craft and design including jewellery, ceramics and art prints. Find jewellery by Inner Island, Edge Only, Scribble & Stone, Sandra Hartwieg, Rowena Sheen, Jennifer Kinnear and more. 
Advertisement. Scroll to continue reading.
Ór Jewellery, Galway
This shop stocks a wide range of Irish jewellery as well as exciting pieces from international brands. Here you will find fantastic Irish jewellery by Emma by Jane, Lynsey deBurca, Liwu Jewellery and more.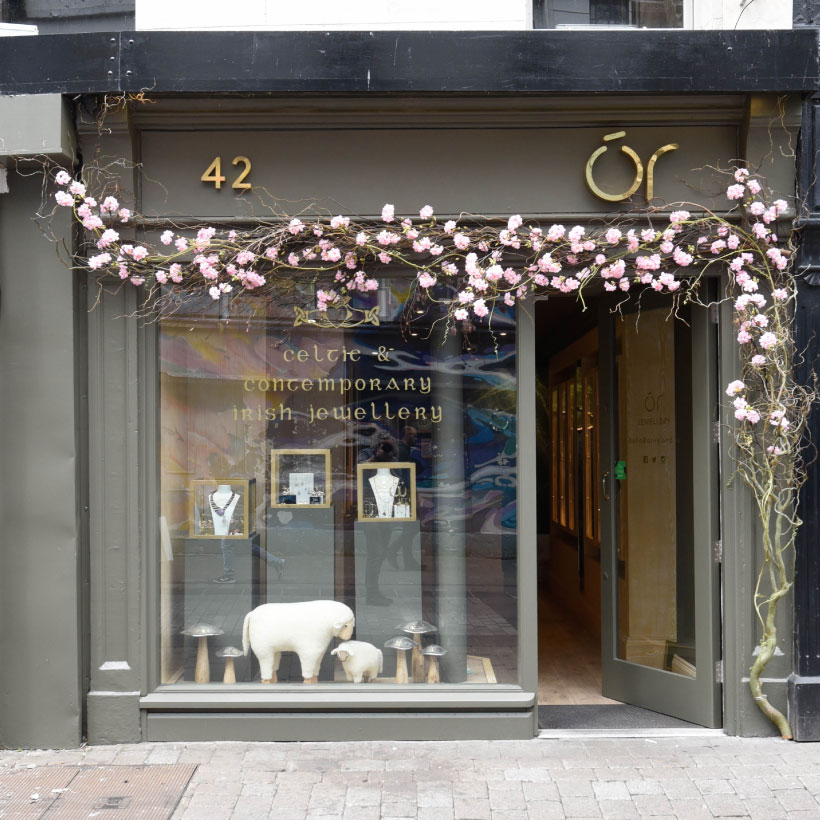 Situated in the picturesque town of Westport, O'Reilly Turpin champions Irish craft and design. Inside you will find pieces by Enibas, Alan Ardiff, Eily O'Connell, Box for My Treasure, Blaithin Ennis (earrings pictured below) and Scribble & Stone. 
Run by Irish jeweller Martina Hamilton, this shop stocks Irish art and gifts as well as a range of Irish jewellery. Find Martina's own designs inspired by the Irish coast, as well as Juvi, Seamus Gill, Chupi, Alan Ardiff and Enibas Jewellery. 
This craft gallery is a wonderful destination that really celebrates brilliant Irish art, craft and design. Inside you will find the work of deBláca Jewellery, Danu Ceramics and Jonecari. 
This independent boutique is located in the small seaside village of Lahinch in Clare. As well as vintage clothes and Irish-made candles and gifts, you will find Punch and Fable earrings, Capulet & Montague, and Rowena Sheen Jewellery
With a beautiful location overlooking Galway's Spanish Arch, this shop was established in 1972. Cobwebs stocks an array of modern and antique jewellery. Owner Phyllis MacNamara adores jewellery and has studied at Cartier and Sotheby's in London. As well as one of a kind antiques you will also find Irish-made contemporary jewellery by Maria Dorai Raj and Nigel O'Reilly. 
This welcoming coffee and craft shop in Tralee on old Milk Market Lane is a wonderful space for the community and for Irish makers. With a focus on supporting the arts, this shop has lots of beautiful designs and is somewhere to browse, sit and chat with owners Rebekah and Ash. Find jewellery by Magpie Rose Jewellery (pictured below), Alison Walsh Jewellery, local milliners and more.  
A hub for Irish makers in this beautiful West Cork village of Bantry, Forest and Flock is a cool space that is really supportive of Irish design. Find jewellery from Kaiko Studio, Gray Sea Designs, Hen Jewellery, Danu Ceramics and more.