This week's #InformInspireIndulge post is full of inspiring women who have grabbed our attention this week. We're more than a little obsessed with the Irish women's hockey team's World Cup glory and the fun celebrations after. It was refreshing to read Ruth Negga's matter of fact take on Hollywood's treatment of women and no drama approach to breakups in British Marie Claire. Closer to home journalist Aisling Keenan opened our eyes to a neurological condition that really beggars belief.
After the bank holiday, we're really focused on ways we can unwind — ideally we would love a weekend escape to the idyllic Hunter's Yard, but we may just have to settle for trying out a new face mask at home in front of Netflix. If you're in the same boat, read on for our recommendations.
#InformInspireIndulge is a new series on our website full of the latest things going on in culture, events, wellbeing, interiors, travel, food, fashion and of course, inspiring women. From great lifestyle tips to leave you feeling your best, where we have been window shopping to the gorgeous wedding venue/yoga pop-up we've just discovered and much more, here's a handful of our favourite bits from this week. For more, click here.
INFORM: Things We Love | Hot Topics | Diary
THINGS WE LOVE
MARIAH CAREY SHOWED HER SUPPORT FOR THE GIRLS IN GREEN
Firstly we love that the amazing Irish women's hockey team made history by winning silver at the World Cup. What a phenomenal performance. And to bring another smile to your day, the team gave the O'Donovan brothers a run for their money in terms of entertainment value at their homecoming. Not only did the team's triumph capture the hearts of the nation, but also the attention of the world's biggest diva. The team's song is Mariah Carey's All I Want For Christmas Is You, because they were so excited to play each match in the World Cup that the night before every game felt like Christmas Eve (yes, that is the nicest thing we have ever heard a sportsperson say!). When the players enjoyed a hero's welcome on their return to Ireland, the crowd joined in for a singsong of their team song, and the atmosphere was incredible. Mariah Carey in August?! Not only did the video do the rounds on Irish social media, but Mariah Carey retweeted the video too saying it was amazing!
Extraordinary scenes in Dublin- all I want for Christmas in August pic.twitter.com/0Um8kIPeql

— Laura Hogan (@LauraHoganTV3) August 6, 2018
THAT IS A-MAZING!!!!!!!???????????????? ???????? https://t.co/GZX01W6sfm

— Mariah Carey (@MariahCarey) August 7, 2018
The team really loves a singsong…
"It's like we're in Dublin!"

Just listen to that roar! ??

Beaming smiles all around as the Irish players sing 'Ireland Call' ??#HWC2018 pic.twitter.com/XUZWsLfzbz

— BT Sport (@btsport) August 5, 2018
HOT TOPICS
CHALLENGE YOUR KIDS & TRY TO WIN A TAYTO PARK FAMILY MEMBERSHIP
There are only so many times you can expect kids to run themselves ragged around the local park or keep themselves occupied with Lego, drawing or anything else that pops into their heads. Treat them to a fun day out to Tayto Park to check out the new Ladybird Loop, a spinning coaster for kids where they can spin around a figure of eight track in their own ladybird carriage! Older kids will love taking on the Tayto Park Challenge, just like Lucy Kennedy and her kids Holly and Jack — from thrilling zip lining and the climbing wall, to the fun of the petting zoo, kids will love ticking off the list. Complete as many challenges as you can and you could win a family membership to Tayto Park. Check out what Lucy and her kids got up to below!
INSPIRE: Be Inspired | Interviews | Health & Wellbeing
BE INSPIRED
WOMEN AREN'T HELD BACK BECAUSE OF MONEY, BUT BECAUSE OF POWER — RUTH NEGGA
After her career-making performance in Love Ruth Negga has had her pick of roles, most recently nabbing the lead of racial drama Passing. Now at the top of her game, she weighed in on how Hollywod treats women, and she didn't hold back. "You can't hold the tide [of what's happening with women in the industry] back with a broomstick," she added. "The industry's been using the excuse of the dollar with women for years, but it was never about the dollar. It was about power. That cold, dead hand that wouldn't let go. That's changing now." As for diversity, she says there is still a long way to go. "People go, great, that's all sorted, and it drives me fucking mad," she says. "This is a continuing conversation. We have to move forward with the questions we ask and evolve with our society." Read more here.
Ruth Negga was catapulted to stratospheric levels of fame for her performance in Love, which brought her non-showy long-term relationship with Preacher co-star Dominic Cooper into the spotlight. The couple have since parted ways, and class act Ruth is determined to dispel any suggestion that there could be bad blood between them.
"We broke up a very long time ago. It's just people knew about it recently. You found out a couple of years too late," she tells the new issue of British Marie Claire.
When asked about their relationship now, especially co-starring together on Preacher, she says: "To be honest, I think if you really love someone and care about them, and you're going to work with them… maybe it doesn't work for some people, but it just worked for us. We know each other, the way we work, and he's super-supportive of me.
"I know this sounds like a f**king spiel, but it's not. We've literally got each other's backs."
Q&A
LIFE IN COLOUR
This week journalist Aisling Keenan did a fascinating Q&A on her Instagram about living with the neurological condition, synesthesia. Basically, this condition means that one sense is perceived as if by one or more additional senses such as sight. So when Aisling meets someone, her brain instantly associates them with a colour, number, letter and day of the week. It affects everyone differently, this is just her unique experience of it. For example, Pharrell, the singer behind Happy, can see music and sound in colours. This has been something that has affected Aisling for as long as she can remember, and her family for years thought it was just a quirky thing she did. This was until an aunt heard someone on the radio describing exactly what Aisling did. The doctor was from the neuroscience department of Trinity who was studying the condition and Aisling, then aged 15, volunteered to be studied along with other people with the condition. Check out Aisling's fascinating Q&A on her Instagram highlights under My "condition".
HEALTH & WELLBEING
MINDFULNESS FOR MS
Expert psychologists at NUIG have launched a new online mindfulness-based treatment programme for people living with MS. In recent years research has shown that mindfulness-based psychological interventions can ease MS-related symptoms like fatigue and anxiety. People can log in and practice from the safety and comfort of their own home without needing to travel for appointments. The free online sessions will provide participants with instructions on a range of activities to encourage helpful coping responses. People who take part in the MindfulnessforMS trial will not need to attend any clinic or NUI Galway at any stage. Materials are tailored for those wishing to learn effective ways of managing their MS. For further information, click here. To participate in the programme, please email your name, phone number and details of your MS to painresearch@nuigalway.ie . GPs or healthcare practitioners who are interested in referring suitable patients to the trial can also use these contact details.
INDULGE: Interiors & Travel | Fashion & Beauty | Food & Drink
INTERIORS
CREATE A CALM READING SPACE
If you turn the TV on automatically when you walk into your living room, then chances are there's not much chance of you curling up with a book. Create a designated reading space that is inviting and comfortable and you will be much more inclined to pick up a page turner rather than the remote. IKEA enlisted interiors expert and author Caroline Foran to give tips on creating the perfect reading space.
The perfect chair: Go for something oversized, ideally an armchair big enough to put your feet up. The reading nook is the perfect opportunity to splash out with a statement chair. I love the SODERHAMN corner chair or the FASALT swivel armchair in yellow velvet.
Lighting: Soft, atmospheric lighting is best when switching off is your goal. A lantern style gives off relaxing soothing light, like the SJOPENNA floor lamp, or reading lights are a real style statement now. Try the BAROMETER.
Books: Try a wall shelf like the LIATORP as a practical and stylish solution for storing your books. The GLADOM tray table is handy for resting your cup of tea or coffee and your current read.
Make it cosy: Add texture to create the coveted cosy environment. Try the VINDUM or HAMPEM rugs, squishy cushions like the STOCKHOLM or VALLENTUNA, and a luxurious throw like the INGABRITTA.
Lead out of Caroline's book: We can forget greenery but it is essential for creating a relaxing zone. Try the SPATHIPHYLLUM or the FICUS BENJAMINA NATASJA.
Find more tips on creating a relaxing space here.
Caroline Foran
TRAVEL
HUNTER'S YARD AT MOUNT JULIET ESTATE
Mount Juliet Estate in Kilkenny has a new sister property, Hunter's Yard, a four star laid back yet luxurious place to stay. Originating from the stables block on the estate, Hunter's Yard has been reinvented as an appealing and tranquil escape. The new development includes 93 luxurious bedrooms surrounding two picturesque courtyards, all decorated with a nod to the setting's equine past. Guests can enjoy delicious meals and a tipple or two at The Hound, serving breakfast, an all-day menu and signature cocktails. The restaurant has been awarded two AA Rosettes for culinary excellence, which is impressive for such a new property.
BEAUTY
WEEKEND TLC
If your skin is still in bits after the Bank Holiday weekend, give it a much needed boost with the very affordable KISS NY PRO Masks. There are two to try. The 100% cotton sheet mask (€2.95, at pharmacies and Dunnes Stores) is made from natural fibres infused with serum to encourage soft skin, while the Hydrogel masks are concentrated with 100% organic floral essential oils and the thin gel formula allows maximum absorption (€6.50, Penneys).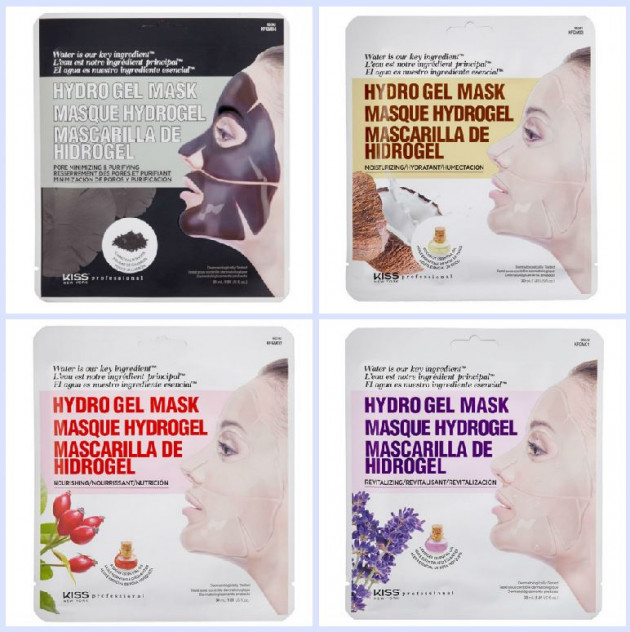 FOOD & DRINK
EVERYBODY LOVES IRISH FOODIES
Have you watching Somebody Feed Phil on Netflix? The second series of the show sees Everybody Loves Raymond creator Phil Rosenthal travel the globe trying the best food in Venice, Buenos Aires, Copenhagen and Ireland. Phil hung out with the Happy Pear twins, ate at Brother Hubbard, Cork's Takashi Mizayazi and more during his stay. It's a very heartwarming look at the passionate people putting Irish food on the map, and if you check out the trailer below you will see Darina Allen wowing Phil with a tour of the farm and cookery school at Ballymaloe.
Read the last #InformInspireIndulge post here.
INFORM | INSPIRE | INDULGE