According to research conducted by furniture company DFS, more than 75% of Irish home owners want to inject more colour into their homes – compared with only 46% of our neighbours in the UK having the same aspiration.
In order to help you brighten up your home, we've complied five key tips to follow when trying to add some colour to your rooms. From prints to plants, there is plenty of choice for you to choose from. Whether it be your living room or bedroom, you can customise your home with these pretty picks. Bonus, most of them are Irish-made.
The tiniest detail can mean so much if placed in the right location so make sure not to overload the room with print and colour, everything in moderation!
1. Add Accessories
Like an outfit you might wear, accessories can take a look from basic and boring to stylish and smart with just one item. So why not try out the same trick with your interiors? Add textured throws and printed pillows and watch your room transform.
Couture Cushion, Katie Larmour Design (POR)
Aqua Throw, Meadows and Byrne (€55.96)
Aztec print cushion, Penneys (€4)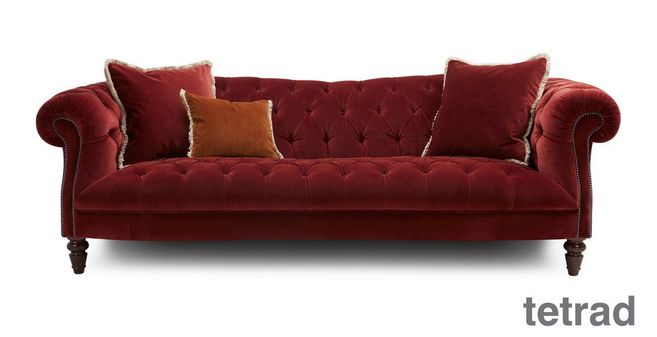 Palace Grande Sofa, DFS (€2499) (This comes in a velvet blush colour pictured in the image at the top of the page, such an amazing piece!)
2. Add Prints
If you want to add colour but don't want wall art or wallpaper, why not try a printed rug? Placed under a coffee table or left to be the centre of attention, a rug is a great way to add warmth, print and colour without overdoing it.
Arlo Chevron Orange rug, Harvey Norman (€220)
Zeal Berry rug, The Rug Loft (€575-1099)
Grey and yellow square rug, Hometrends.ie (From €34.99)
3. Add Wall Art
Wall art are a great way to make a focal point in a room. Whether it is just one large print or a selection of small ones, art can be an easy way to instantly add character and colour to a room. Even printing off your own art and framing it can be an easy way to add some personal touches to a room.
Cobh Cathedral print, Jando Designs (from €20)
Set of 2 Contemporary Floral Canvases, Next (From €23.60-66)
4. Add Plants
If you haven't tried to look after an indoor plant here is your opportunity. Plants give a room life and not to mention how great green and gold look together! You can get same little pots of plants or go all out and invest in a large feature piece. Both are equally striking and will definitely add a pop of colour to any corner.
Potted plant Howea Forsteriana, Ikea (€45)
Potted plant with pot Succulent, Ikea (€10)
Potted plant with pot Succulent, Ikea (€4 each)
5. Add coffee table books
Coffee tables are usually the centre hub of a room and the first thing people will look at when they come into a room because most likely they have to walk around it or are sitting in front of it. With that being said, coffee table books are also a great conversation starter. Food and travel are two of our favourite topics here at Irish Country Magazine and if the front cover of the book looks great then it will definitely catch our eye and spark an interesting conversation.
Brian McDermotts Donegal Table cookbook, Easons (€19.99)
Rachel's Irish Family Food cookbook, Amazon (€20.99)
NYT 36 Hours In Europe, Eason (€34.99)
Have you tried this interiors trend?
Inform|Inspire|Indulge